Samsung Galaxy Note 8 'final' leaked specs review: the productivity machine
77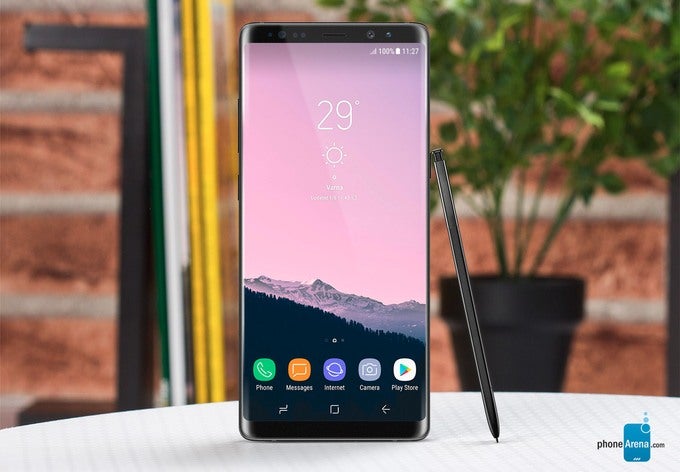 Samsung's Galaxy Note line of productivity-focused jumbo phones had an almost too-good-to-be-true run until last year, when the otherwise well-received
Note 7 crashed and burned due to faulty battery design
. Many had doubts about the future of the Note dynasty in the weeks and months following the embarrassing recalls, but at one point soon after, we actually started hearing rumors that a successor is already in the works. Could Samsung do it?
Could it be that there's still life beneath the ashes of the Note 7?
All evidence now points that yes, the Galaxy Note 8 is coming, and what's more, it's to be here at the usual time: towards the end of August, as if nothing ever happened. Some nerve, Samsung! Let's get back to that evidence we mentioned...
Alleged Galaxy Note 8 specifications have been floating around for months now (as usual), but we can now feel much more certain about this piece of unofficial data, as the latest Note 8 specs sheet to surface has been reported by none other than Venture Beat's Evan Blass (@evleaks). During the last half-decade, Blass established himself as a trustworthy leaker of mobile device information and acquired almost legendary status within the tech blog sphere.
This is why we can now talk about the leaked Galaxy Note 8 specs with relative certainty.
Note 8 vs Note 7: what's new
Alleged Note 8 specifications
Before we get any further, it's a good idea to first see how things have progressed since the Note 7. Hopefully, one way the Galaxy Note 8 is going to progress is by not blowing up anymore! But we can't know this yet, so we can only look at the specs for the time being. What the Note 8 vs Note 7 specs comparison shows us is that curiously, the Note 8 is shaping up to be a considerably bigger smartphone than the Note 7. Take a look at the size comparison picture below to visualize that. Make no mistake: being slightly wider, but significantly taller and a bit thicker, the Samsung Note 8 will be a massive device: taller and thicker than the iPhone 7 Plus.
Arriving 12 months later, the Note 8 has the advantage of the newer chipset, namely the Snapdragon 835 in the States, or Exynos 8895 in most places internationally. The Galaxy S8+ from earlier this year features the same piece of silicon, so can use this to create some projections about the Note 8's performance. In terms of improvement over the Note 7, we'd expect to see around 33% faster overall performance with the Galaxy Note 8, which is a substantial enough gain. The Note 8 will also come with 6 GB of RAM vs 4 GB in the Note 7, so this should bode well for its productivity nature.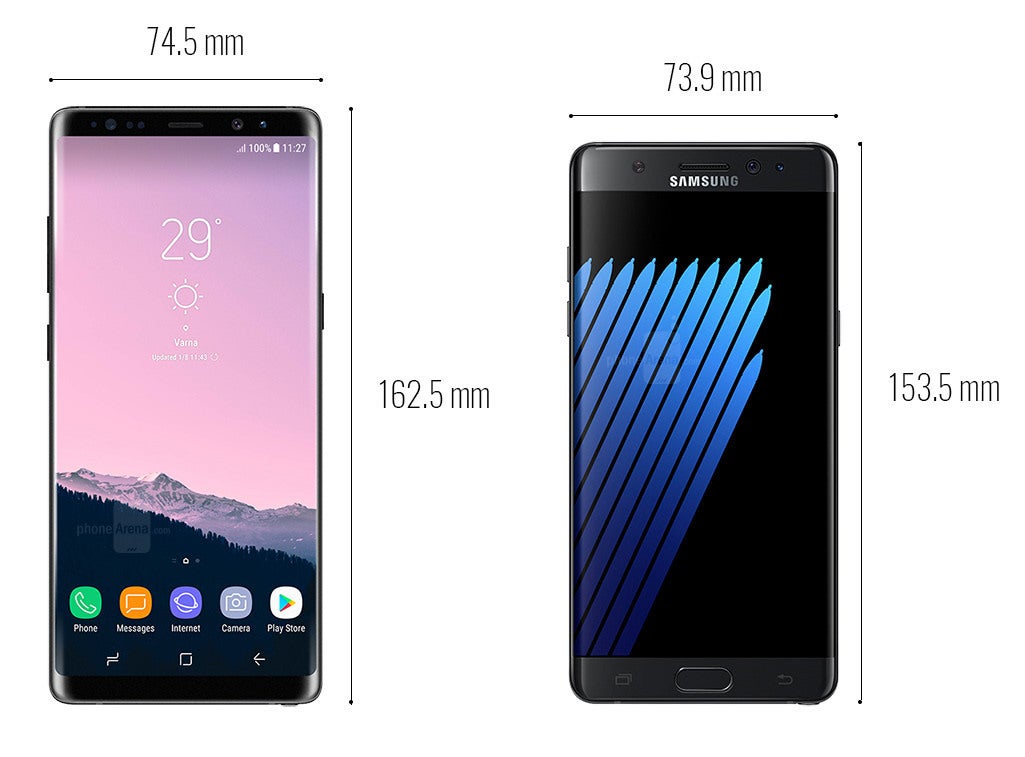 Galaxy Note 8 vs Note 7


Galaxy Note 8
Galaxy Note 7
Display
6.3-inch Super AMOLED
1440 x 2960 px, 9:18.5
5.7-inch Super AMOLED
1440 x 2560 px, 9:16
Dimensions
6.40 x 2.94 x 0.33 inches
(162.5 x 74.6 x 8.5 mm)
6.04 x 2.91 x 0.31 inches
(153.5 x 73.9 x 7.9 mm)
System Chip
Snapdragon 835
Exynos 8895
Snapdragon 820
Exynos 8890
RAM
6GB
4GB
Storage
64GB + microSD
64GB + microSD
Battery
3,300mAh
3,500mAh
Main Camera
Dual 12 MP camera
2x optical zoom
12 MP camera
Front Camera
8 MP, autofocus
5 MP
Water-resistance
IP68
IP68
Aside from that, a major area of innovation we can identify thanks to the leaked specs is the presence of a dual 12 MP camera: a first for Samsung. Neither the Note 7, nor the Galaxy S8 featured such a design, despite rival Apple introducing a dual camera in its iPhone 7 Plus late last year. Nonetheless, the second 12 MP in the Galaxy Note 8 is said to serve the same purpose as in the iPhone 7 Plus, having a telephoto lens for true 2x zoom. Whether or not Samsung will come up with its own version of Portrait mode, where the subject is stylishly separated from the background through a simulated bokeh effect, is unknown at this point, but our guess would be that Samsung is going to try its hand at that as well.
Galaxy Note 8 vs Galaxy S8+: productivity phablet against mainstream flagship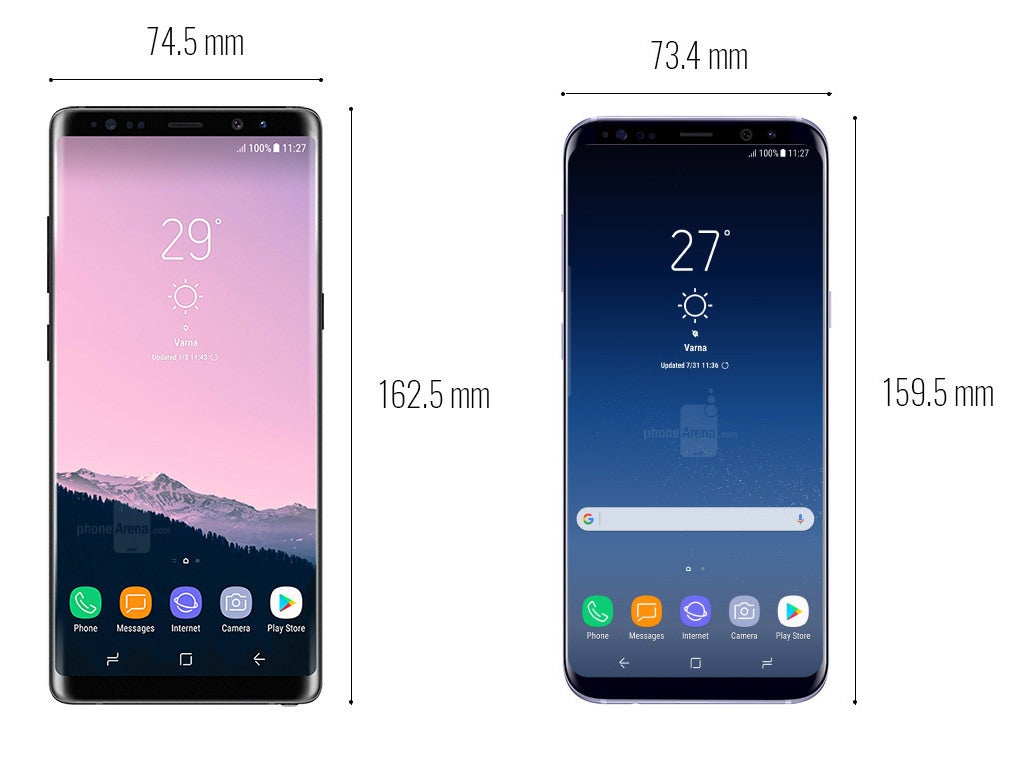 Galaxy Note 8 vs S8+
Last year's Note 7 almost fit within reasonable dimensions for a mainstream big-screen phone, but as we noted earlier, the Note 8 is shaping up to be a considerably larger device. It's going to be a bit larger than the Galaxy S8+, but it's also been reported that it'll have the more squared-off shape that Note products traditionally have. This will make it somewhat less ergonomic and pocked-friendly than the S8+.
When it comes to other specs, the core of the Galaxy Note 8 appears to be almost identical the S8+, including screen size, chipset, storage and many other characteristics, like the IP68 water- and dust-resistance. However, the Galaxy S8+ comes with a 3500 mAh battery, whereas the Note 8 will apparently arrive with a 3300 mAh one. Coupled with the slightly larger, 6.3" display, we hope the available juice will still be enough for a full-day run time. Looking at the PhoneArena Battery Life Benchmark,
the S8+ clocked the respectable 8 hours
, so if our calculations are correct, the Galaxy Note 8 should score slightly below that, provided all other things remain equal. This should be enough for a full day of moderate usage, but probably not more. Hey, at least it won't blow up in your face!
There may not be enough to differentiate the Note 8 from the Galaxy S8+.
A very interesting detail we need to mention here is the very high price the Galaxy Note 8 is expected to arrive at. While we can't be too specific yet, most reports converge around the $900 - $1000 price range. If this indeed turns out to be the case, the Galaxy S8+ may remain the better large-screen deal for a Galaxy smartphone throughout the remainder of the year, because it can already be easily found at under $700. The S Pen and the new dual camera are the only unique Note 8 features we're aware of so far. The same case cannot be made for Apple's iPhone 7 and 7 Plus, because there's also the considerable screen size difference to differentiate the two. With the Note 8 and S8+, there will be just 0.1" difference in screen size, which is really negligible.
Samsung's next Note device will be Big, no matter how you look at it. The overall specs package will be second to none in the Android world, but even more impressive will be the breadth of features Samsung is expected to include. It isn't clear yet if all there is to the Note 8 has already leaked, or the manufacturer has managed to keep a few goodies hidden in order to make the official reveal sweeter. Speaking of which, Samsung has announced that it'll introduce the Galaxy Note 8 on August 23. You can count that we'll be there to provide quality first-hand coverage of the latest installment in Samsung's now-controversial Note series.
VIDEO

|

SAMSUNG GALAXY NOTE FE REVIEW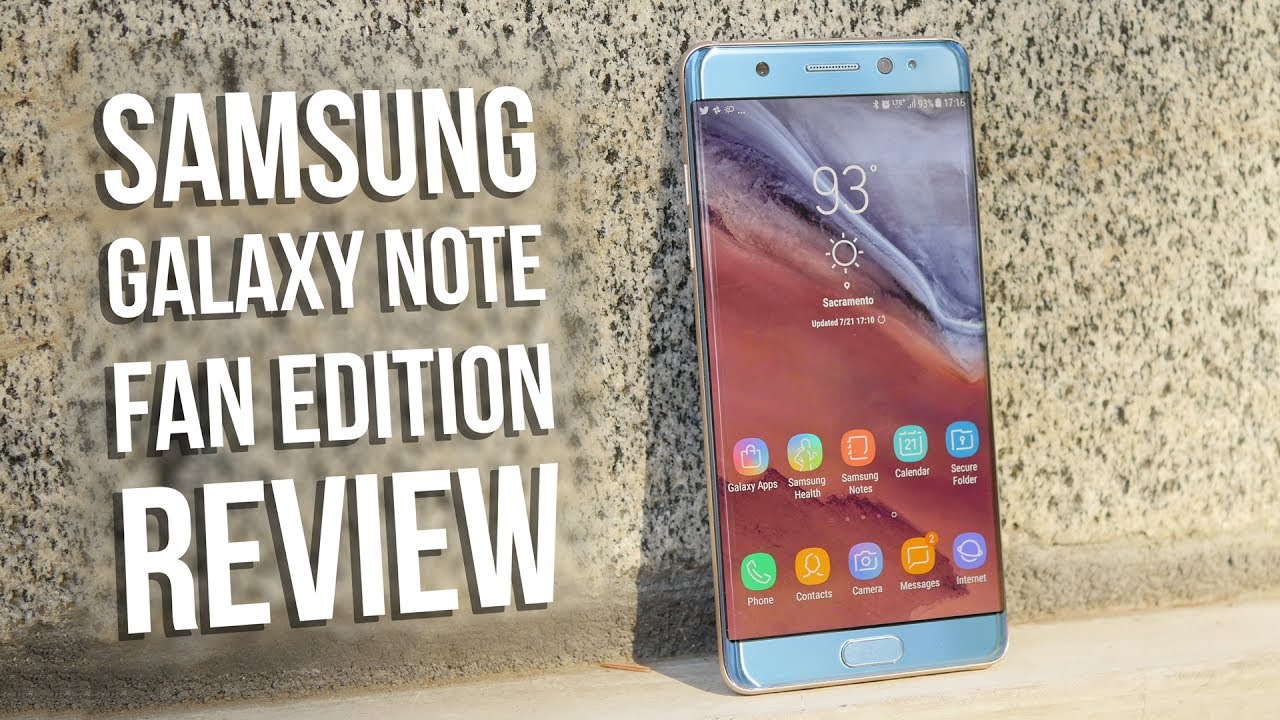 RELATED STORIES
Recommended Stories