Four Nokia Windows Phones rumored in the pipeline, plus a Nokia Windows 8 tablet
10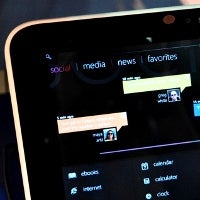 Prominent Russian mobile tech blogger and first on
Nokia's Most Wanted list
Eldar Murtazin tweeted today that Espoo has not one or two, but four Nokia Windows Phones in R&D as of this moment, and... a tablet, to possibly run
Windows 8
.
Two of them are supposedly based on Chassis 1, which is the standard we've seen so far on WP7 devices - at least 1GHz chipset and 5MP camera, etc., and the other two will come based on Chassis 2, similar to the
HTC Ignite
that was leaked recently.
That all makes sense, but the biggest splash Murtazin is making (and he has been right about Nokia's moves quite a lot), is that Nokia is going all in regarding its relationship with Microsoft. We witnessed the
engagement announcement
, but now four babies are obviously on the way, and they will also have one big brother to look up to - Murtazin claims Nokia is working on a
Windows 8 tablet
.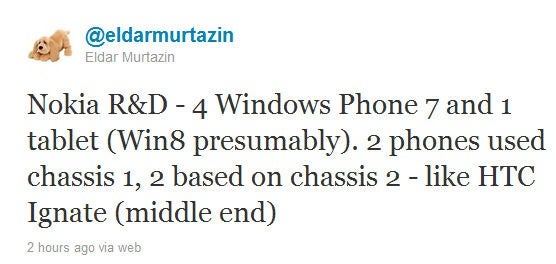 Not a shocker, considering both the Finns and Microsoft need to claim a stake in the tablet business before it is too late, and the ideal way to do it for both is with Windows 8, which will work on ARM-based mobile chipsets, and have a
touch-friendly UI
,
similar to the live tiles
in Windows Phone 7. We can actually see the first demos of a prototype Win 8 tablet as soon as
this summer
.
We are eager to hear more about this one, because if Nokia hardware and design capabilities join forces with a full-blown Windows version optimized for mobile, a lot of people will be tempted to buy it.
source:
Twitter