Fitbit introduces the Surge smartwatch and two new fitness bands
6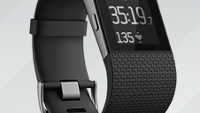 Fitness band manufacturer Fitbit has finally introduced the Surge smartwatch
after a few days of speculation
. The Surge pairs with an Android or iOS handset so that it can inform you about notifications, and control music playback on your phone. The Fitbit Surge also has a heart rate monitor, compass, light sensor, and built in GPS.
Priced at $249, the Fitbit Surge helps you measure distance, pace and time thanks to the GPS. You can also keep track of elevation. Using the heart rate monitor, you can measure the intensity of your workout to make sure that you are maximizing the results. In other words, you can make sure that all of the sweat you are producing, is resulting in the changes you want for your body. The wearable will run a solid week on a single charge, according to Fitbit.
Surge syncs your stats to an app that can track all of the activities that you do each each day. While now official, the Fitbit Surge smartwatch won't be ready to launch until next year. Does that sound like the timing of a smartwatch that we already know?
What is available now is the Surge Charge. This is a fitness band that pairs with an iOS or Android phone so that you can see who is calling you via a notification on the screen. The fitness band will also monitor your daily activities including steps taken, calories burned and sleep. The Charge is priced at $130 and will run a week on a single, ahem, charge. The advanced version of the Fitbit Charge is the Charge HD, which costs $150 and includes a heart rate monitor. This device will run for five days on a single charge, and will be available in 2015.
We happen to have a video to show you for each model. Check it out by clicking on the video slideshow below.
Thanks for the tip!
source:
Fixit
via
Geek