FCC sensationalizing "cramming" charges says T-Mobile's Legere
3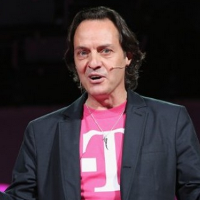 T-Mobile CEO John Legere wants to be heard. Let's just say that the executive used all-caps at times when posting on the carrier's blog, to make sure that his point of view would come across, after the FTC accused the carrier of cramming. In short, the government agency says that T-Mobile charged subscribers for the use of third party apps that customers never authorized. According to the FTC, T-Mobile kept 30% to 40% of the fees it charged for these unauthorized services, and passed the remainder on to the merchant.
The outspoken executive admitted that all of the major carriers in the industry offered Premium SMS service. Legere noted that T-Mobile was among these operators. He went on to add that whenever a fraud was discovered, that merchant was dropped. In November of last year, all four major U.S. carriers stopped offering these services, which included celebrity gossip, daily horoscopes and flirting tips, priced at $9.99 a month for each category.
Legere's anger can be easily understood in the context of what the executive has accomplished over the last year. Coming forward as a champion of the little guy, he has taken several proactive and pro-consumer steps. Some were matched by rival carriers, others weren't.
Offering plans to allow quicker phone upgrades
,
paying other firm's Early Termination Fees
to get people to switch to T-Mobile, and
giving away free data for tablets
, are some of the things that Legere has done in order to become the most pro-consumer CEO in the industry. Recently,
T-Mobile stopped deducting the amount of data that its customers used to stream music, from their monthly data allowances
. The CEO might fear that the FTC charges could be seen as a contradiction of the executive's staunch pro-consumer image. The FCC is also believed to be looking into the matter.
T-Mobile has become the wireless industry's tail wagging the dog, which has made some question the timing of the FTC's complaint, especially in light of the powerful lobbying armies available to Verizon and AT&T on Capitol Hill. In addition, T-Mobile and Sprint have been talking about a merger of the two operators
that would leave John Legere in charge of a much larger, and more powerful company
.
Both the FCC
and
the FTC
have already expressed their concerns about such a deal.
"The FTC certainly did a good job of sensationalizing their story and their news at the expense of both T-Mobile's reputation and mine. My frontline employees are upset about it and so am I. I considered leaving it alone, but I have to set the record straight...T-Mobile and I stand for one thing: doing right by consumers!"-John Legere, CEO, T-Mobile
source:
T-Mobile
,
Reuters