Delta Airlines places a large order for 11,000 Microsoft Surface 2 tablets
17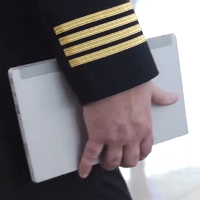 Delta Air Lines stepped up to the plate and pre-ordered 11,000
Microsoft Surface 2
tablets. The airline intends to use the slates to replace the large bags carried by airline pilots that typically contain paper maps, briefing documents and other important in-flight paperwork required by pilots. Those bags each weigh 38 pounds, so replacing them with a lightweight tablet can actually save fuel in the long run.
Delta expects to save 7.5 million sheets of paper annually by making this switch and the airline will save 1.2 million gallons of fuel and lower carbon emissions by 26 million pounds. Delta isn't the first airline to arm its pilots with a tablet to replace paper maps and documents.
American Airlines
and
UAL
have given some of its pilots Apple iPad slates with FAA approved apps pre-installed. Delta, though, has a thing for Microsoft devices. In August it announced that it had purchased Windows Phone 8 flavored
Nokia Lumia 820
phones for its 19,000 global flight attendants.
Microsoft had to write off $900 million
worth of the original generation
Microsoft Surface RT
slates which means that 6 million units have spider webs all over them in a storage facility in Redmond. With the sequel,
Microsoft has improved the resolution on the screen
, added a new Type Cover with an embedded power cell to improve battery life, and created a second locked position for the kickstand. And there are more changes and new features.
To make it easier to differentiate between its two tablets this time around, Microsoft calls the ARM powered Surface 2 "
a tablet for business
" while the Microsoft Surface Pro 2 is "
a laptop replacement
". Frankly, that sounds exactly how we explained the difference between the two models the first time around.
If you want to learn more about the purchase by Delta of the Microsoft Surface 2 slabs, check out the video below. And yes, we don't expect that Delta paid full price for either the Nokia Lumia 820 phones or the Microsoft Surface 2 tablets.
source:
Delta
via
TheRegister