Deal: get the LG G5 on monthly installments with Verizon, Sprint, or AT&T, get a free $200 gift card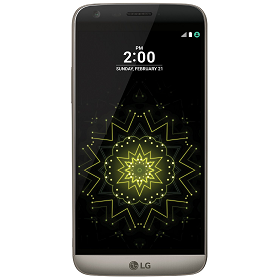 If you're planning to purchase the
LG G5
through a monthly installment plan with either Verizon, AT&T, or Sprint, then you might as well take advantage of Best Buy's new promotion. The retailer is offering a free $200 gift card when customers purchase the
LG G5
through an EIP with one of these three carriers.
Earlier today, we told you that
Best Buy is throwing in a free $250 gift
card when customers purchase the Motorola Moto Z Droid on either a two-year contract or a monthly installment plan with Verizon. As it turns out, the retailer is also offering a $200 gift card with LG G5 purchases. This time around, customers are granted a bit more flexibility as the deal is valid for three of the four largest carriers in the US.

Getting the LG G5 on Verizon on a monthly installment plan translates into 24 monthly payments of $26 each. Sprint is asking for 24 monthly payments of $24. AT&T is asking for even less, $22.97 per month for two years. Regardless of which carrier you're getting the LG G5 on, Best Buy will hand out a $200 gift card when you activate the phone.
The LG G5 is far from the being the commercial success that LG's mobile division was hoping for when it unveiled its modular smartphone back at MWC 2016 in late February. However, this doesn't mean that the handset isn't worth considering. The raw specs include hardware such as a
5.3
-inch IPS display running at 1440 by 2560 pixels, a Qualcomm Snapdragon 820 chipset, 4GB of RAM, 32GB of expandable internal storage, a 16MP primary camera, and an 8MP selfie shooter on the front.

If Best Buy's offer tempts you, here is some more info on the LG G5:

What do you guys think, will any of you guys be taking advantage of this deal?