Comcast/Charter partnership could disrupt U.S. wireless market says T-Mobile's CFO Carter
6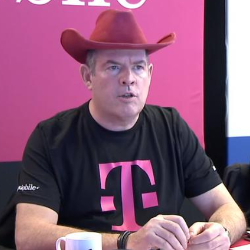 A couple of weeks ago, we told you that
Comcast and Charter had agreed to become partners on "wireless phone ventures."
Some industry analysts even see the partnership making an acquisition of either Sprint or T-Mobile. Separately, both Comcast and Charter are offering their own MVNOs. Comcast will use a combination of Wi-Fi hotspots and Verizon's 4G LTE network. Comcast's
Xfinity Mobile is already open for business
. Charter's MVNO, which will also employ Verizon's 4G LTE network,
will launch next year
.
Interestingly, T-Mobile CFO Braxton Carter says that the Comcast/Charter partnership has the ability to "truly disrupt what is happening in the U.S. marketplace." And if anyone should know about disruptions in the U.S. wireless business, it would be Carter. After all, T-Mobile has become the most innovative carrier in the U.S.
Carter made comments on Monday at a JP Morgan conference stating that "You can definitely dip your toe in the water with an MVNO, but you're never really going to have true owner's economics." That comment has analysts wondering whether there truly is a three-way transaction coming, with Comcast and Charter combining to buy T-Mobile. That would give the two cable firms ownership of a real 4G network of their own, unlike the MVNO which is essentially the leasing of a cellular network. Neither Comcast nor Charter will have ownership of the network that they are using for their respective MVNOs.
Talking about the interest in the wireless business coming from Comcast and Charter, the T-Mobile executive said, "I think it's really silly to think this only is a four-player market." Another topic of note discussed by Carter is the possibility of a T-Mobile merger with Sprint. He said that a T-Mobile combination with Sprint isn't rocket science. Adding T-Mobile's network to Sprint's holdings of 2.5GHz pipeline would allow a combined T-Mobile Sprint to build out a 5G network without spending too much on capital expenditures.
"One of the benefits of a Sprint transaction would be a combination and rationalization of two networks in one. You combine the two networks to have tremendous density. And then put the 2.5 [GHz], and what that could do to you for 5G is massive future capex avoidance as this develops, and significant differentiation against the competition. You look at the potential convergence of cable, broadband and wireless: Potential massive opportunities on the 5G side. And we're a company that I think is uniquely positioned to evaluate these types of opportunities as they develop in the future."-Braxton Carter, CFO, T-Mobile
source:
FierceWireless