Chrome adopts fingerprint authentication on Android for increased security
6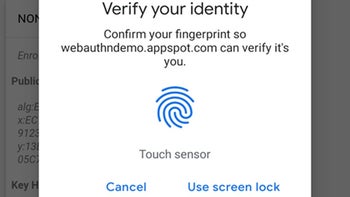 The team behind
Chrome
is trying to make the browser as secure and easy to use as possible, and the latest improvements announced earlier this week are an important step towards that goal. Chrome 70 beta is now available for download on Android, macOS, Linux, Chrome OS, and Windows, and among the many additions aimed at developers, there are a couple specifically designed for users.
The most important is fingerprint authentication on Android, which allows websites to access a device's fingerprint sensor and "shape identification." Fingerprint sensor support is useful on websites that implement the API so that Touch ID can be used for 2-factor authentication.
Furthermore, the Android version of Chrome will use "shape identification," which relies on three different APIs to detect faces, barcodes, and Latin text in images across the web.
Another interesting change announced by the developers is that starting this version of
Chrome
, the browser will no longer include the Android and iOS build number in the user-agent identification string.
The change is meant to prevent exploit targeting, fingerprinting, and other abuses that could lead to personal data breach. Most of the other improvements included in Chrome 70 beta are meant to developers, so we won't list them, but you can find them all at the source link.