Android, Chrome send 50 times the amount of user data to Google servers than iOS, Safari does?
33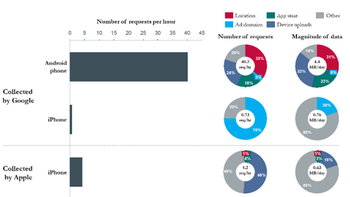 In Professor Schmidt's paper, he says that an idle Android handset running the Chrome browser in the background sent location data to Google 340 times over a 24-hour period, or 14 times each hour. That happens to be 50 times the rate at which an idle iPhone running Safari sent data to Google. Apple's mobile browser doesn't send much data back to Google unless someone is actively using an iPhone. Android devices sent 4.4MB of data to Google servers, six times the amount that the iPhone sent to Google servers daily.
A scary part of the report notes that a "major part" of Google's collection efforts occur when the user of an Android device is not directly engaged with the handset. This is frightening considering that more than 2 billion people worldwide own Android powered mobile devices. Google also has the ability to match up anonymous data with data collected from Android devices, helping it create accurate profiles.
The report, in PDF form, can be loaded on to your device by clicking on the sourcelink below. It is a fascinating look at how Google collects information to figure out your interests, allowing it to serve customized ads that you might fight interesting. Also, Google checks your location coordinates at different time intervals to determine if you are walking, running, taking a bus, riding a bike or flying on a plane.