Casio unveils limited-edition WSD-F20SC smartwatch powered by Wear OS
9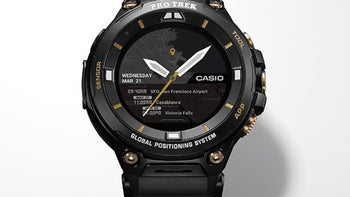 Casio has just announced its next smartwatch for true adventurers – the limited-edition WSD-F20SC. Perhaps the name won't tell you anything, so we're going to clear it up for you.
The new Casio WSD-F20SC is a more expensive version of the
regular WSD-F20 smartwatch
that was officially introduced one year ago. Unlike the standard model, the limited-edition edition WSD-F20SC will not be available in large quantities.
According to Casio, only 700 units will be available for purchase in late June when the smartwatch will be released. The wearable device hasn't been priced yet, but it will cost way more than the regular version that's on sale for around $500.
The smartwatch sports a 1.32-inch dual layer touchscreen featuring sapphire crystal. It's got ion-plated buttons on the side, which are IP-treated for enhanced wear resistance, as well as a field composite band that combines metal-reinforced urethane H-links with fine-resin connecting pieces. Also, the case back is made of stainless-steel.
Casio WSD-F20SC features MIL-STD-810G certification, which makes it water resistant (up to 50 meters). It includes GPS, Bluetooth and Wi-Fi connectivity options, as well as Android Wear 2.0 (or
Wear OS by Google
)
The limited-edition smartwatch is fully compatible with Android and iOS devices, but it requires Android 4.3 or later, and iOS 9.0 or newer.