Bose launches new $400 Alexa-powered home smart speaker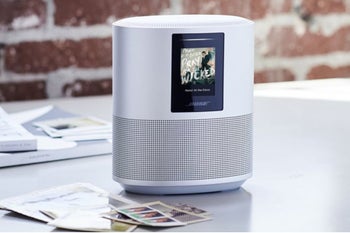 We could say that Bose is in the heavyweight league when it comes to audio equipment, so it makes perfect sense for the company to want to compete on all tiers and aspects of the audio industry. And here comes the Bose Home Speaker 500, a brand new
smart speaker
that will be available for purchase in October for $400.
The smart speaker features
Alexa support
and includes a small display where you can see the album art of whatever you're playing. It's coated in aluminum and has two custom drivers that are pointed in opposite directions so that the sound would reflect off surrounding walls.
The Home Speaker 500 includes several numbered buttons that allow you to quickly start playing any of your favorite playlists, internet radio stations, and other songs and albums that you like listening.
According to Bose, its new $400 smart speaker will eventually feature support for
AirPlay 2
and
Google Assistant
, but it's not going to be available at launch. Also, the Home Speaker 500 features the same mic technology included in Bose headsets and headphones, which are supposed to allow it to hear commands better when loud music is played.
If you decide to order one, keep in mind that it won't be available until October, as mentioned earlier.