iOS 11.3 leaves AirPlay 2 out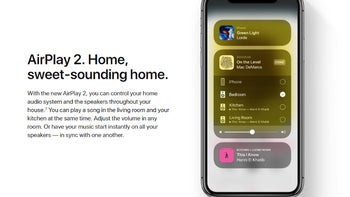 The new
iOS 11.3 update is here
and it brings new battery health info, ARKit with support for vertical surfaces, business chat and health records in the US, and other improvements, but one important feature that was expected to come with this update, did not make it: we are talking about AirPlay 2.
AirPlay 2 appears prominently on Apple's official iOS page, but the feature has been removed from iOS 11.3 beta 3 and has not made it in the final software either.
With AirPlay 2, you will be able to wirelessly stream audio from an iPhone or iPad to multiple devices simultaneously, so you could have two HomePods blasting out sound together for a fuller, more refined sound experience, or you can have a
HomePod
and an Apple TV connected simultaneously for multi-room audio.
AirPlay 2 would allow pairing two HomePods together, but it will come later, likely with iOS 11.4
Interestingly, AirPlay 2 was available to try in iOS 11.3 beta 1 and beta 2, but apparently Apple engineers could not finalize the feature in time and it will launch with a future iOS update, likely iOS 11.4.