Bloomberg: Samsung drops Snapdragon 810 from the Galaxy S6, will ship it with Exynos instead
84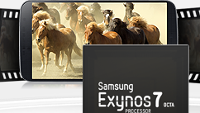 Would you like some Exynos with this
Galaxy S6
? Now here is an interesting turn of events - Bloomberg is confirming this morning that Samsung has ditched Qualcomm whatsoever, and its next flagship, with all of its
Edge
, US carrier, and whatnot versions, will only be powered by the homegrown Exynos chipset, at least in the first batches. This will likely be the
7 Octa
edition that is in the
Note 4
, but paired with Samsung's new LTE Cat. 9 radio. In short, the S6 will be as powerful and capable of 450 Mbps downlink speeds, as the
Note 4 S-LTE
that Samsung is about to unveil this week in Korea, to
take advantage of SK Telecom's record fast new network
there.
Bloomberg reports that Samsung has gotten weary of the random overheating problems that
the TSMC foundry is facing with Qualcomm's Snapdragon 810 production
, and, since it has superior production capabilities, decided to go with the latest Exynos for the S6. Who can blame it, considering that the company is having a brand new $15 billion factory built outside Seoul, which can churn Exynos chipsets in the tens of millions no sweat, which will be the likely sales numbers of a flagship Samsung phone, instead of relying on older production methods that on top of that TSMC hasn't apparently ironed out just yet. It's not the first time we are hearing that
Samsung has given up on the unreliable supply of Snapdragon 810s
, too.
Now, when it comes to what the differences are between Snapdragon 810 and Exynos 7 Octa, we'd have to wait and see exactly what modification Samsung has eventually used for the S6, but one thing is for certain - it will be built on the superior 14nm process, whereas Qualcomm uses 20nm for the 810, and
only this year will move down to 14nm
. In general this means less power consumption and smaller processor footprint and/or superior performance at comparable clock speeds, but Qualcomm has other aces up its Snapdragon chipset sleeve.