Qualcomm late 2015 roadmap leaks out: 14nm FinFet Snapdragon 820 surfaces, 'Taipan' Krait successor due
99+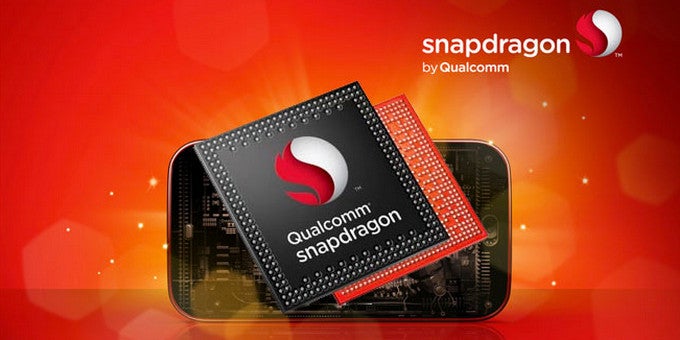 Qualcomm's roadmap for the second half of 2015 seems to have leaked out in its entirety, a leak revealing many juicy details about what the best devices of 2015 could run on.
The star of the H2 2015 show is the successor to the current Snapdragon 810 system chip: the
Snapdragon 820
. Alleged specifications for the upcoming system chip show two key advancements: a quick transition to 14nm FinFet manufacturing at Samsung and GlobalFoundries fabs, and the roll-out of what seems like the first custom Qualcomm 64-bit CPU cores under the Taipan architecture.
Qualcomm has dominated the market in the past three years with its Snapdragon chips featuring Krait CPU cores found in most major flagships, but the need for a quick transition to 64-bit chips coincided with the end of life for Krait, forcing the company to release the Snapdragon 810 without its own custom core (which was simply not ready). The Snapdragon 820 is expected to feature an octa-core setup with eight TS2 high-performance cores. It's impressive that Qualcomm might be ready to iterate on the 810 so quickly and bring us a fully custom core in the second half of 2015 when we expect to see the new Samsung Galaxy Note 5, and other late-year stars.
The transition to 14nm FinFet is also hugely important as it will bring solid improvements in performance and efficiency. Interestingly, we're seeing Samsung and GlobalFoundries as the fabs of choice, and there's no mention of TSMC at the moment.
Other Snapdragon 820 features include a new Adreno 530 GPU, support for the faster LPDDR4 RAM, as well as a advanced MDM9X55 LTE-A Cat.10 Qualcomm modem.
This, however, is not the only Snapdragon 8xx series chip planned for the second half of 2015. The other one carries the
Snapdragon 815
name, and is again an octa-core design, but this time instead of eight TS2 cores there are four TS1 and four TS2 in a big.LITTLE configuration. The GPU of choice in the 815 is an Adreno 450, with the modem and RAM standard remaining the same MDM9X55 LTE-A Cat.10 modem and LPDDR4. The Snapdragon 815, however, will be manufactured on the 20nm node, a fact that might to have a lot to do with lower initial yields for the more advanced 14nm process.
Then, we're moving onto mid-range territory with three solutions: the
Snapdragon 620, 625, and 629
. The Snapdragon 625 and 629 look identical: both are octa-core SoCs with Adreno 418 GPU, LPDDR4 RAM, a lower-class MDM9X45 LTE-A Cat.10 modem, all manufactured on 20nm HKMG Samsung/GF process. There are no details about whether we'll see Qualcomm's own core design here or a generic ARM Cortex solution. The Snapdragon 620, on its part, is a more affordable quad-core chip that is said to use Qualcomm Taipan cores running at between 2 and 2.5GHz. It will come with lesser-standard, LPDDR3 RAM, but for all else is nearly identical with the afore-mentioned Snapdragon 62x series: it will feature an Adreno 418 GPU and MDM9X45 LTE-A Cat.10 modem.
Finally, leaks reveal a
Snapdragon 616
chip that is expected to come with eight ARM Cortex A53 cores running at between 1.8GHz and 2.2 Ghz, and sport an Adreno 408 graphics chip. This SoC comes with an LTE-A Cat. 6 modem and is made on a 28nm HKMG by Shanghai-basied Semiconductor Manufacturing International Company (SMIC) factory.
Finally, we should warn you that this leak originates from China, and this is no surprise given that many of the fabs Qualcomm depends on are there. It seems true to life (but a 14nm Snapdragon 820 could take more time to arrive to actual devices), but we cannot vouch for the authenticity of these leaked documents, so do take them with a grain of salt.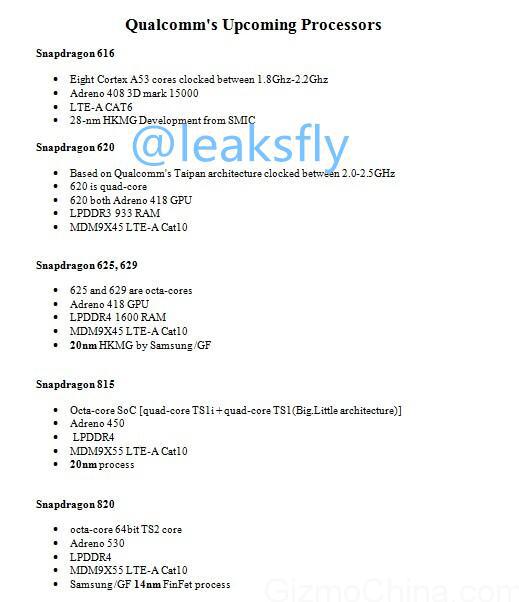 source:
@leaksfly
via
GizmoChina