BlackBerry COO Beard: We never said that we would not build another BB10 device
99+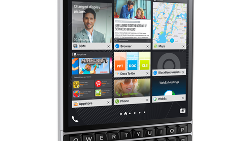 Last week, BlackBerry's Senior Vice President for Global Device Sales, Alex Thurber, said that
BlackBerry is not giving up on physical keyboards
. Today, BlackBerry Chief Operating Officer Marty Beard gave hope to die hard 'Berry fans when he told
Crackberry
that the company never said that it would not produce another BlackBerry 10 handset. With its Android powered
BlackBerry Priv
, and two new Android phones said to be on the way, Beard said that the company is taking the best features from BB10 and adding therm to Android to create its own unique hybrid models.
The company is still selling BB10 powered devices like the
BlackBerry Passport
, the
BlackBerry Classic
(although
manufacturing of the device has ended
) and the
BlackBerry Leap
. Next month, BB 10.3.3 will start rolling out to BlackBerry 10 handsets, and another update is being scheduled for next year.
In Manhattan, BlackBerry has built a pop up store located at Brookfield Place in Battery Park. The kiosk offers unlocked versions of the BlackBerry Passport, BlackBerry Passport Silver Edition, BlackBerry Classic, BlackBerry Leap and the
BlackBerry Priv
. Each phone comes with a case and sync pod, a bundle available only from this location.
It's hard to see BlackBerry returning to BB10, but on the other hand the Priv hasn't been a big winner either. The BlackBerry Neon is rumored to be the next Android flavored 'Berry, reportedly
a
re-branded Alcatel Idol 4
. Eventually, BlackBerry is going to have to decide whether using Android has been successful for it. If not, the company could trot out BlackBerry 10 hardware once again, or decide to leave that end of the business for good.
"Our roadmap is completely driven by our customers. We are absolutely not backing away from BB10 because we have a huge amount of customers on BB10 and high expectations from that group. The company's never said that we would not build another BB10 device. BlackBerry is pulling all the top features from BB10 and adding it to its Android system, creating a hybrid that has the best of both worlds."-Marty Beard, COO, BlackBerry
source:
Crackberry