BlackBerry confirms that the BlackBerry Classic is no longer being manufactured
13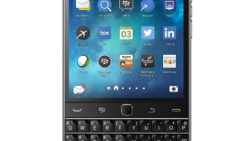 Last week, BlackBerry denied a report stating that it had sent a letter to Verizon and AT&T about ending production of BlackBerry 10 handsets. In the letter,
the company did admit that it had ended the "manufacturing cycle" of the BlackBerry Classic
. Today, BlackBerry confirmed on its blog that the Classic will no longer be produced.
Ralph Pini, Chief Operating Officer and General Manager for Devices at BlackBerry, called the phone a "workhorse," but also noted that it has surpassed the lifespan of an smartphone in today's market. That is a curious thing to say considering that the phone is just a little more than 18 months old. The
BlackBerry Passport
is actually three months older than the Classic.
"These are the tenets that help keep us focused and the reasons why we are committed to the success of both BlackBerry 10 and Android devices. To keep innovating and advancing our portfolio, we are updating our smartphone lineup with state of the art devices. As part of this, and after many successful years in the market, we will no longer manufacture BlackBerry Classic. For many years, Classic (and its BBOS predecessors) has been in our portfolio. It has been an incredible workhorse device for customers, exceeding all expectations. But, the Classic has long surpassed the average lifespan for a smartphone in today's market. We are ready for this change so we can give our customers something better – entrenched in our legacy in security and pedigree in making the most productive smartphones."-Ralph Pini, Chief Operating Officer and General Manager for Devices, BlackBerry
Pini did confirm that BlackBerry 10.3.3 will be pushed out next month with another update scheduled for next year. Meanwhile it seems that
BlackBerry has another Android handset code named the Hamburg
, that is next to be unveiled. The phone could be a re-branded
Alcatel Idol 4
and be called the BlackBerry NEON.
source:
BlackBerry
Recommended Stories