U.S. Senator: "ZTE presents a national security threat to the United States"
13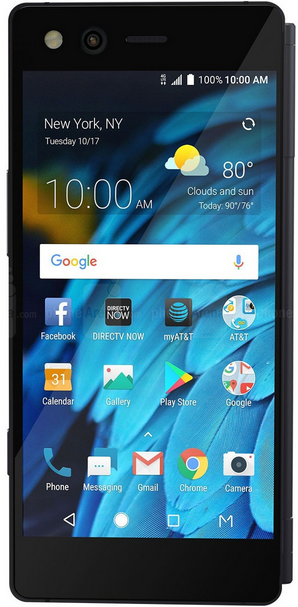 The dual-screened ZTE Axon M
Last week, we told you that
the Trump administration had agreed with China on a solution to lift the export ban on Chinese phone maker ZTE
. The ban has prevented the company from sourcing Snapdragon chips and other important components for its phones. While the ban would be repealed, ZTE would still face a $1.3 billion fine, a shake up in management, and would install U.S. compliance officers. President Trump confirmed the deal yesterday via Twitter. So it's a done deal, right? Wrong.
According to the
New York Times
, on Capitol Hill there is bipartisan shock and anger directed at the president. Senator Chris Van Hollen (MD.-D),
echoing a 2012 report from a Congressional committee
, said, "ZTE presents a national security threat to the United States — and nothing in this reported deal addresses that fundamental fact." On Thursday, a bill passed the House that would prevent the president from making any changes to penalties placed on Chinese telecom firms that broke U.S. laws over the last year. In addition, a bipartisan group of 27 senators wrote a letter to administration officials warning them not to "compromise lawful U.S. enforcement actions against serial and premeditated violators of U.S. law, such as ZTE."
Senator Marco Rubio (FL.-R), a patsy for President Trump in the past, also came out against the agreement. In a tweet, the senator wrote, "Yes they have a deal in mind. It is a great deal... for #ZTE & China." He also stated that congress will now have to intervene. "ZTE: Bad, bad," said Sen. Lindsey Graham (S.C.-R).
There are still many unanswered questions about the Trump administration's desire to lift the export ban on ZTE. During the 2016 presidential campaign, Trump constantly accused the Chinese of stealing U.S. jobs, but then sent a tweet a few weeks ago that said
the ZTE ban has resulted in "too many jobs in China lost."
According to several published reports, 72 hours before sending the tweet, which stated that the president had instructed the Commerce Department to lift the ban, a Chinese government owned company arranged a $500 million loan for a theme park in Indonesia that is licensing the Trump name. That deal will reportedly enrich the president personally.
"If the administration goes through with this reported deal, President Trump would be helping make China great again. Simply a fine and changing board members would not protect America's economic or national security, and would be a huge victory for President Xi, and a dramatic retreat by President Trump."-Sen. Chuck Schumer (N.Y.-D)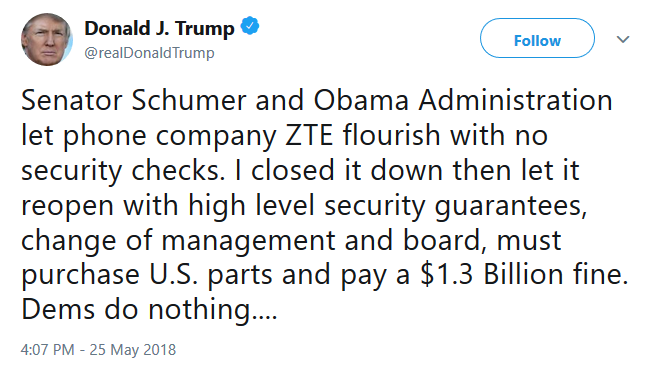 The president confirmed the ZTE deal with a tweet sent Friday afternoon