Trump halts Broadcoms' bid for Qualcomm claiming national security is at risk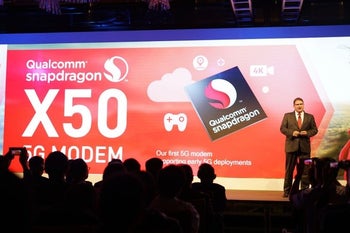 Claiming that an acquisition of San Diego based Qualcomm by Broadcom is a national security risk, President Donald J. Trump has blocked the transaction from taking place. Earlier this month, the U.S. Treasury's Committee on Foreign Investment in the United States (CFIUS) issued an extraordinary letter complaining that if a foreign company took over Qualcomm,
it would damage U.S. participation in the production of components for the next-generation 5G wireless networks
. Qualcomm, well known for its mobile chips, already
has a number of phone manufacturers lined up to use its Snapdragon X50 5G NR modem
.
Earlier this morning, Broadcom moved up the date when it would become an American company domiciled in Delaware from early May to April 3rd. Currently, the company is located in Singapore. On April 5th, Qualcomm stockholders were to vote on their company's 11-seat Board of Directors. Broadcom had a slate of six candidates nominated, just enough to possibly take control of the board, and rubber stamp the transaction. The order from Trump cancels this proxy battle and orders the two chipmakers to abandon the proposed transaction. Broadcom's $117 billion offer ($79 a share) is no more.
"There is credible evidence that leads me to believe that Broadcom Limited, a limited company organized under the laws of Singapore (Broadcom)...through exercising control of Qualcomm Incorporated (Qualcomm), a Delaware corporation, might take action that threatens to impair the national security of the United States."-Official White House statement
Had the deal gone through, it would have been the largest tech merger in history. But investors had been wary from the start. Since the deal was announced, Qualcomm's shares never broke $67. That is considered a huge discount from Broadcom's bid, especially since it featured a huge cash component. Tonight, with the news out, Qualcomm's shares are down nearly 3.8% to $60.43. Broadcom's stock is up .75% to $264.80.
While Broadcom's bid was active, its attempt to buy Qualcomm became the biggest soap opera on Wall Street. And as all of this was going on between Broadcom and Qualcomm, the latter was trying to complete its own takeover of NXP Semiconductors,
a deal now valued at $44 billion ($127.50 a share)
.
source:
CNBC