Tim Cook talks about the iPhone 6s Smart Battery Case and its "hump"
50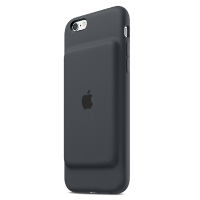 A couple of days ago, Apple introduced its very own battery case for the
iPhone 6
and
iPhone 6s
– the
Smart Battery Case
. The new accessory drew negative comments and snarky jabs for two reasons. First, many find its design to be surprisingly unappealing, with a tortoise shell-like hump on the case's back instead of just having a more streamlined shape throughout. Second, many poked fun at the fact that Apple itself was putting out a battery case. Thus, the company was "admitting" that its flagship smartphone has worse battery life when compared to competitors' high-ends.
Apple CEO Tim Cook was recently attending an Hour of Code event at an Apple store in New York City and was open to answer a couple of questions about the new Smart Battery Case. His explanation about the unsightly "hump" (he did mention he doesn't like calling it that, of course) was that the design team wanted to create a battery case that is easy to put on or take off. Having the Smart Battery Case be made by a single piece of soft fluoroelastomer (the same material Apple Watch Sport bands are made of) and moving the battery towards the center allows the user to freely bend it around its edges, making it easier to slip the phone in or out.
Given our experience with the battery cases that we've gotten to fiddle with over the years, we'd say we have to agree that it is sometimes quite a difficult task to cram a smartphone in them, and often even harder to remove it. The issue comes from the fact that a conventional battery case will usually consist of a single hard plastic piece that fits very snug around the device, and a "cap" piece that snaps on top to keep the phone protected from all sides. All of this usually takes some force, patience, and solid nerves to put together or take apart.
Second, Mr. Cook talked about the jabs at the iPhone 6s' battery life. He argued that users who charge their smartphones on a daily basis will probably not need a battery case. The product is meant for people who happen to travel, hike, or otherwise put themselves in a position where they will be away from a power outlet for a while.
That's all good, but we still think that hikers would much rather have a tough-to-put-on third party case when on a trip, instead of a soft case around their expensive iPhone 6 / 6s. And, the $99 price-tag of the Smart Battery Case can actually buy you
a pretty rugged 3rd party case
, usually with a battery larger than the 1,877 mAh cell found in Apple's accessory.
What say you, though? Would you rather go for the full Apple experience and shell out for a Smart Battery Case, accepting the "hump" and all that, or would you prefer a tough, large 3rd party case?