Unlimited Boost Mobile plans price and features comparison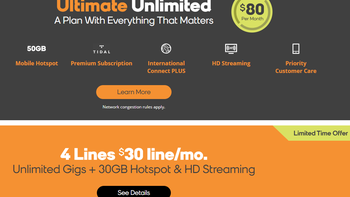 Today's fight in the
prepaid market
is fought by the major carriers - Verizon, AT&T, T-Mobile, and Sprint - so their virtual MVNO offshoots had to reinvent themselves. Each one is now targeting a certain niche, either geographically, or with unorthodox amounts of data at rock bottom prices, too, in a way to differentiate from the big four.
The little guys usually ditch a few added features in the process, but those are of the type you might not be using on a regular basis anyway. One of those unsung prepaid warriors - Boost - is a Sprint offshoot and a pretty popular one at that.
It is using the carrier's network to offer a $60 unlimited plan with the whopping 30GB of hotspot data at full speed to boot. Then, again, it's Sprint's network, so if it has good coverage in your area or the places you frequent when traveling, you are golden. Here is an overview of Boost's current plan prices and features, compared to the rest of the prepaid gang.
Best Boost prepaid plan? Unlimited Plus for a single, and Gigs for a family plan
The $60 a month
Unlimited Plus
option is a sweet upgrade over the $50 one, as it sports a 30 GB hotspot and HD streaming. The $80/month Unlimited Ultimate ups the hotspot ante to 50GB, but if you don't need that much sharing and aren't planning on traveling abroad, it's not worth shelling out the extra twenty for it. If you need more lines, for $30/month on four lines, you will get all that the $50 single line plan offers, too.
*All prices are with included Auto Pay discount


Cricket Wireless
Metro by T-Mobile
Straight Talk
Boost
Project Fi
2GB
$30
$30
$35
$35 (3GB)
$40
5GB
$35 (w/AutoPay)
-
-
-
$50
10GB
-
$40
$45
-
$80
Unlimited 1
$50 (max. 3Mbps)
$50 (w/ 5GB hotspot)
-
Gigs
$50 (12GB hotspot and SD streaming)
$80
Unlimited 2
$55

$60 (w/ 15GB hotspot)
$55
Plus/Ultimate
$60/$80 (30GB/50GB hotspot and HD streaming)
-
Networks and caveats
AT&T





22GB throttling cap on the $50 unlimited plan, the $55 plan only gets throttled in times of congestion
$10/10GB hotspot

T-Mobile





During congestion, Metro customers may notice reduced speeds vs. T-Mobile customers

T-Mobile, Sprint, AT&T, Verizon



Sprint




Sprint, T-Mobile, U.S. Cellular




15GB throttling cap
Goes with high-speed hotspot