The new BLU X Link smartwatch offers 2G connectivity at just $60
5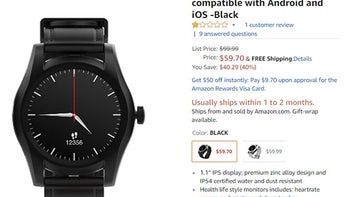 BLU Products is mostly known for its
very cheap Android smartphones
, but it looks like the US-headquartered company expanded its portfolio to include smartwatches as well.
The new BLU X Link is definitely not
among the best smartwatches
you could get these days, but it's an interesting alternative for those who don't want to spend more than $100 on a wearable device.
Running a very basic OS that offers features like heart rate, notification sync, and step tracking, the BLU X Link has a SIM card that allows users to take and make phone calls, as well as SMS. The bad news is the smartwatch only has 2G connectivity support (850/900/1800/1900Mhz).
On the flip side, BLU says the X Link sports a 1.1-inch IPS display and that the smartwatch features
IP54 rating
(water and dust resistance), as well as Bluetooth connectivity.
Another advantage would be the fact that it costs only $60, although Amazon has it on sale for 40% off, so the BLU X Link actually costs $100. The smartwatch is up for pre-order at the US retailer and it's supposed to ship on June 6 or later.