Apple tops J.D. Powers smartphone satisfaction survey by carrier
57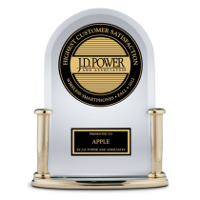 On Thursday, Apple topped J.D. Powers smartphone satisfaction survey by carrier. Measuring how the device scored for performance, physical design, features, and ease of operation, the iPhone topped the scoring for AT&T, Verizon, Sprint and T-Mobile. In each survey, Apple beat out Samsung by a small margin. The study took place between September 2013 and February 2014 and covered 13,237 smartphone customers who have owned their phone for less than a year, and are a customer of a Tier 1 carrier (Verizon, AT&T, Sprint and T-Mobile).
Overall, smartphone customers are the most satisfied with their handset at AT&T (844) followed by Sprint (839), T-Mobile (835) and Verizon Wireless (829). Overall smartphone satisfaction tallied an 837. While 35% of Smartphone buyer cited "features" as their number one reason to buy a particular phone, that particular reason is not as important as it was back in 2011, when it was cited by 57% as their main reason to purchase a specific brand.
Interestingly, J.D. Power discovered that the reasons why you buy a certain smartphone model can help predict if you are going to like the phone. Those who selected a certain model because of price, are less likely to be satisfied (808 out of 1000) and will have lower repurchase rates (18%) than those who select a smartphone because of the operating system (860 and 35% respectively).
J.D. Powers also asked smartphone buyers for the most requested features that they are looking for in a new handset. A larger screen...did not make the list. What did make the list was seamless voice control (36%), built-in sensors that help users customize settings related to the environment (35%), and facial recognition and biometric security (28%). Pricing has also risen. The average smartphone cost $202 in the latest survey, up from $174 in the 2011 Volume II survey. 52% of those in the new survey said that they received a discount when purchasing their phone, down from the 60% who received a discount in the 2011 Volume II survey. For that, you can 'thank' T-Mobile.
The iPhone has won eight consecutive J.D. Powers Awards for smartphone customer satisfaction. That means it has won every year since the OG
Apple iPhone
was released in 2007.
source:
J.D.Power
via
9to5Mac