Apple said "If it's not an iPhone, it's not an iPhone", here's Samsung's reply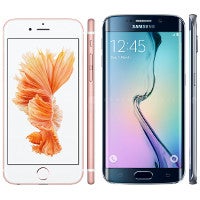 Back in July
, Apple launched a video ad for the iPhone, outlining how the company designs and builds both its software and hardware. This has its obvious benefits over competitors, who often use someone else's software (Google's Android) and depend on externally-designed hardware parts (Qualcomm's Snapdragon system-on-chip) in order to build a quality device. Apple's iPhones can "get away" with not having a bajillion-core processor, or 4 gigabytes of RAM, but still run buttery smooth, even snappier than most other flagships, because Apple itself can optimize the operating system that the phone is running on. So, after outlining the fact that software and hardware work in unison, the ad closes off with the hard-to-forget line "If it's not an iPhone, it's not an iPhone".
Alright, that's all well and good, but one gripe many users have with iOS – and a flaw that Android camp inhabitants often point out – is that it lacks a lot in terms of customization. In fact, there are two things you can do to personalize an iPhone – rearrange the app icons (in a fairly constrictove, row-by-row manner, too) and change the background image. Homescreen widgets are a no-no, and icon packs or themes sounds like something so outlandish, it may never happen on iOS.
Of course, having added theme support with its newest iteration of TouchWiz, Samsung chose to play on exactly those customization options. The latest ad from the company starts with the sentence "Sure, you can change your background, but why stop there?". We didn't need a throat-clearing sound there to catch the subtle reference. The following shots in the clip show a homescreen with its apps ordered in diagonal – something that's impossible to do on an iPhone, various widgets, and the aforementioned themes. The ad soon closes with the words "If it doesn't look like your phone, it's not your phone".
Well played on Sammy's part, we'd have to say. The ad certainly isn't an in-your-face "
Galaxy S6
is better than the iPhone!" propaganda, which, let's be honest, the company
has come close to before
. This is the second spin-off from the "If it's not an iPhone, it's not an iPhone" motto we've seen recently – last time, it was "
It's not a phone, it's a Galaxy
".