Samsung debuts "It's Not a Phone, It's a Galaxy" TV ad, showcases a feature that no iPhone has
87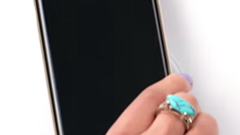 Shortly after Apple announced the
iPhone 6s
and
iPhone 6s Plus
, Samsung debuted a new TV ad which showcases one feature that Apple's latest handsets do not offer (and no iPhone ever did).
The tagline of Samsung's new TV commercial is "It's not a phone, it's a Galaxy" - which sounds like some sort of reply to Apple's
"if it's not an iPhone, it's not an iPhone"
tagline. In fact, the commercial itself is showing an iPhone 6 Plus for a couple of brief moments, only to underline the fact that it does not support wireless charging. At the same time, Samsung is reminding us that the
Galaxy Note5
and
Galaxy S6 edge+
, both featuring heavily in the commercial, offer wireless charging capabilities by default.
As you may know, the Samsung Galaxy Note5 and Galaxy S6 edge+ are already available to buy, while Apple's iPhone 6s and iPhone 6s Plus will be available to pre-order later this week, on September 12.
Would you buy a new Samsung Galaxy instead of a new iPhone just because the latter doesn't feature wireless charging capabilities?