Apple iPhone 4: all the info in one place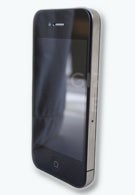 The
new Apple iPhone
model (the name of which we still don't know), expected to launch
this summer
, has been present in our news column for quite some time now. That's why we considered it's time to take all the available info on the very, very hot handset and put it here - in one single place - your one-stop shop for all the iPhone 4 leaks, if you will.
So how did the info leak? Apple is known for its tight-lipped personnel, who would never say a word about what the company is up to, even in the face of a most fearsome torture. However, one night it all fell apart for Apple when suddenly an unknown iPhone model was
found lying on the floor of bar
. The guy who found it then sold it to Gizmodo, which closely examined the gadget and came up with the conclusion that this is
indeed the next iPhone
. They provided us with quite a lot of details on it, but then Apple stepped in and requested that they
return the unit to them
, giving us another proof that this is what we've been looking for.
Most of you already know that the most interesting new thing in the Apple iPhone 4 we are currently aware of is the
rethought design
. The new handset looks very sleek, a bit on the boxier side, but its build quality seems to be extremely high. The capacitive screen is maybe its most important aspect. However, details on that one are as scarce as hen's teeth at the moment. It is not a secret that the
iPhone 3GS
has a resolution that's a bit dated now - 320x480 pixels. This is by no means impressive when you consider the resolutions of some other top of the range offerings right now, which gravitate around 480x800 pixels. The difference in quality is indeed great. That's why we are glad that Gizmodo reported the "Connect to iTunes" screen (as far as they could reach) seems to be much more detailed now. In addition, there were some
rumors pointing
that the new iPhone will sport a
640x960 pixels
resolution, which means exactly four times more pixels on the screen. Should this turn our true, the iPhone 4 will definitely have a very crisp and clear image. And since the aspect ratio remains the same, older apps made for the HVGA res will also be able to run in full screen, though they will not take advantage of the higher res. This is still speculation, of course.
hardware
front include a faster processor (1GHz
like in the iPad
?) and more RAM. If we can use Apple's words, we expect this to be the fastest, most powerful iPhone yet. Few will be surprised to see this happen.
A much-wanted feature that finally seems to have found its way to the device is the
front-facing camera
for video chats. Upgrades have also been done to the main camera, which is
rumored to be 5MP
now. It's also equipped with an LED flash, which will definitely be of help when taking shots in badly-lit environments, but will still not make a camera phone out of the iPhone.
On the
software
side we should expect nothing else than
iPhone OS 4
with
multitasking
capabilities, iBooks , iAds and all the other good stuff that's going to make an appearance there. Of course, we are not striking the option of more secrets being unveiled later this year off the list yet.
Here is the place to go
if you want to know more about iPhone OS 4.0.
We know some of you can't wait till they finally put this thing up for sale, but we're afraid we'll have to wait some more, but not for too long though. Last year Apple
introduced the iPhone 3GS
at the WWDC event on June 9, and now the manufacturer has scheduled the event for June 7 through June 11, so that's when we should expect it to become official. Then it will probably take about half a month till they make it available for purchase. Anyways, we'll keep you posted about all the new iPhone-related stuff that comes out.
For more information on the new iPhone, check out the following links:
Apple iPhone 4 Preliminary Specifications