iPhone 3GS announced!
99+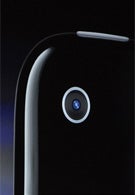 As expected, at the WWDC 09 keynote, Apple announced a new iPhone - the
iPhone 3G S
. S in the name stands for SPEED. Obviously, rumors about faster processor were correct and the iPhone 3G S is faster in most aspects – for example, launching the messaging menu is 2 times faster, while opening an Excel attachment is 3.6x faster. iPhone 3G S comes with OpenGL|ES support for more advanced 3D games. It also supports HSDPA 7.2Mbps, so internet browsing will also be faster.
The Apple iPhone 3G S also comes with a better camera – 3-megapixel unit with auto-focus – tap on the object you want to focus (just as the HTC Touch Pro2). Macro mode is also available for shooting as close as 10centemeters. Low light image quality is also said to be improved. It also captures video in VGA resolution and at 30fps - the clips can be edited directly on the phone and easily shared with MMS (AT&T will not support it initially).
The new iPhone 3G S will look identical to the current 3G model, with a glossy plastic back.
It will also feature digital compass and come with an app for it. Other new feature is the Voice Control - hold the menu button and the voice control menu will appear. You can ask the phone what song is playing, ask it to play similar music or a specific track you like, or call somebody by name. iPhone 3G S also comes with a hardware encryption. It will also offer improved battery life (5 hours of 3G talk time, 9 hours of Wi-Fi internet) and will come in 23% smaller packaging, to be eco-friendly.
Apple iPhone 3G S will be available as soon as June 19th, 2009. It will cost $199 for the 16GB model and $299 for the 32GB model, both available in either black or white. The current iPhone 3G 8GB will remain available for $99.
Of course, it will run on the iPhone 3.0 OS, which also brings a lot of new features (to name a few, stereo Bluetooth, MMS, tethering, turn-by-turn navigation, push notifications, more intelligent accessories). You can check our preview of the 3.0 OS
here
and the new features announced today
here
.
Apple iPhone 3G S Specifications