Found iPhone a late stage model; Jobs monitors list of those who carry pre-release iPhones
This article contains unofficial information.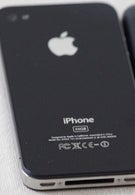 After we
reported
about the mysterious iPhone found in the San Jose bar, we passed along evidence that shows that the phone is a legitimate Apple product. Still, the question persisted whether or not the actual production version of the next Apple touchscreen phone would look like the lost unit with its flat back, slightly smaller screen with higher resolution, metallic buttons and still no access to the battery. When Gizmodo took their $5,000 cell phone and opened it up, it found some bar codes attached to the unit. One read "N90_DVT_GE4X_0493". According to Daring Fireball's John Gruber, several sources he knows say that "N90" is Apple's code for a fourth generation GSM iPhone slated for a June or July launch. The sources say that "DVT" stands for design verification test which is an Apple production milestone done late in testing. Some changes could still take place, but it looks like when it comes to the next iPhone, what we saw is what we will get.
According to Bloomberg, those Apple employees lucky enough to be trusted with a pre-release model of the iPhone are put down on a "carry list" that CEO Steve Jobs personally monitors. A confidentiality agreement must be signed. The devices are taken off the Apple campus and into the real world for testing purposes. Apple uses the results of its own real world testing to complement the results that its partner-AT&T-gets in similar tests. The Cupertino based firm might change some of its in-house rules after this incident.
Apple iPhone 4 Preliminary Specifications
source:
MacRumors
,
Bloomberg