Another year, another unremovable battery for the iPhone?
10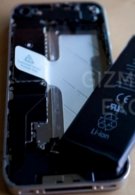 Since the beginning, there was always this shroud of mystery accompanying the iPhone in every way – from the tight lipped stance of the company all the way to the construction of the device itself. So when Apple lost one of its lambs, their world seemingly turned upside down in a heartbeat and was considered out of character for a company that is regarded for its secrecy. Turning the attention away from how uncanny the whole situation has become, Gizmodo decided to focus their attention on the coveted handset before it'll undoubtedly be
shipped back to the hands of Apple
.
The tear-down of the handset revealed many things, but following suit to past iPhones, the one that they held in their custody shows that Apple is firm in keeping the battery unremovable – meaning that owners will have to resort to some extraordinary measures to get a battery replaced or installed; thus voiding the manufacturer's warranty at the same time. There is a distinct translucent tab right under the battery with the words "authorized service providers" tastefully noticeable to ward off would be owners that continuing their efforts will undoubtedly cost them their warranty – it's not to say that taking apart the handset to that point would've been justification as well. The process in getting to the battery seems intricate enough as two screws and a suction cup were required to be removed before getting access.
Digging a bit deeper into the phone, Gizmodo hit a barrier in an attempt to unearth what processor it was packing – whether it'd be the A4 processor from the iPad or something else. At this point, it'd be very unlikely if Apple ever decides to offer a removable battery for the iPhone – which goes to show how the device adds to Apple's legacy of keeping things wrapped up.
source:
Gizmodo