UPDATED: Two new iPhones coming, with one for Verizon?
This article contains unofficial information.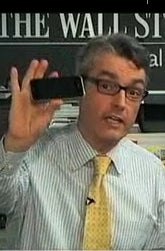 It seems like we can't go a month, let alone a week, without hearing another rumor about an iPhone that is supposedly headed for Verizon Wireless. But this time around it appears to be a bit more credible. The Wall Street Journal is
reporting
that Apple is currently developing two iPhone models. People briefed on the matter said the first would be a successor to the current iPhone 3G S, maintaining the AT&T GSM relationship, and would be manufactured by Taiwanese contract manufacturer Hon Hai Precision Industry Co for a release later this year, as they've produced all previous iPhones for Apple and AT&T. The second model will be based on CDMA (hence Verizon), and will be manufactured by Pegatron Technology Corp, which is the manufacturing subsidiary of Taiwan's ASUSTeK Computer Inc. One of the people familiar with the situation said Pegatron Technology Corp is scheduled to start mass producing the Verizon CDMA iPhones in September, but it was unclear when Apple might make the model available for Verizon. Analysts estimate AT&T pays Apple more than $600 per iPhone, but sells most of them for $199 or less with contract, and heavy iPhone use have also put an enormous load on AT&T's wireless network, pushing the carrier to a breaking point in some markets such as New York and San Francisco. Because of these two issues, people aren't sure how much Verizon is willing to subsidize for each iPhone, like AT&T does, and even if the Verizon Network could handle an influx of heavy-data iPhone users. Because of this, Apple and Verizon may wait until LTE customer-deployment starts at year's end before making an official announcement, as both companies are keeping the whole thing under-wraps.
UPDATE:
Things seem to get even more interesting now with
Engadget
reporting that the new iPhone, possibly named iPhone HD, might get announced on June 22. But what that HD might stand there for? According to John Gruber of Daring Fireball, the new iPhone will be equipped with the iPad's 1GHz Apple A4 chipset (we have heard
rumors of this
), and a display with
a resolution of 960x640 pixels
, which, of course, would be awesome, but is still not HD... In addition, it may also bring iPhone OS 4.0 with capabilities to multitask 3rd party applications like Palm's webOS, which is probably the best multitasking OS out there.
source:
WSJ
via
FoxNews