Apple Watch in detail: on personalization, storage, charging, and more
10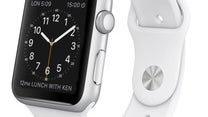 April 24th – that's when the long-awaited Apple Watch will launch commercially and make its way to the wrists of all eager to grab one. The first few
million units
of the hot wearable will be released in the U.S., the U.K., Canada, China, and more of Apple's key markets for a starting price hovering around the $350 mark. What does one get in exchange for all this cash? Well, we've outlined what the smart wearable can do in our
exhaustive Apple Watch news coverage
, and now, we have even more details on the matter.
It is known that the Apple Watch will feature multiple pre-loaded watch faces of different styles. These will be customizable – you'll be allowed to pick what information is displayed and to change the color of the watch face to your liking. This allows for millions of watch face combinations to be produced, so personalization shouldn't be an issue with the Watch. Still, downloadable watch faces are not in Apple's plans at this time.
Speaking of personalization, all Apple Watch bands of the same size will be interchangeable. Nothing will stop you from equipping a $17,000 Watch Edition with a lime green sports band, if you feel like it. Of course, additional bands will be made available from Apple's store, if at some point you decide to change the one on your watch.
On the front of the Apple Watch resides a display of 272 by 340 or 312 by 390 pixels for the 38- and 42-millimeter models respectively. The screen, however, does not have an always-on mode like Android Wear watches do. That's most likely to prevent unnecessary battery use. Users may wake the smartwatch's screen with a tap or by lifting their wrist. If needed, the latter gesture can be disabled.
As
previously reported
, the three Apple Watch variants come with 8GB of storage, some of which is occupied by Watch OS. Yes, that's the official name of the wearable's operating system. Music can be stored on the wearable – up to 2GB of space may be allocated for audio, which can be played back over a Bluetooth headset independently of the user's iPhone.
And if you're curious about the Apple Watch's charging mechanisms, rest assured that the process will be hassle-free. The smartwatch blends Apple's MagSafe technology and inductive wireless charging to provide the wearable with juice. Bring the Watch's battery from zero to 80% or full will take 1.5 or 2.5 hours respectively, which is somewhat longer than what an Android Wear watch takes to recharge. Not a biggie since you'll be charging the Apple Watch overnight anyway. The magnetic charging cradle for the Apple Watch will feature a generous, 6.5-feet (2-meter) cable which will plug into a wall charger or USB port, as revealed by documentation at the FCC.
More on the Apple Watch: