Apple Watch's 8GB of storage does have limitations
28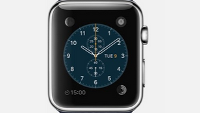 All versions of the Apple Watch, from the $349 Sport model to the $17,000 gold Apple Watch edition, come with 8GB of storage. But there are limitations on how this storage can be used. The timepiece can hold up to 2GB in music and 75 MB of photos can be saved on the wearable device's photo app. This native storage on the Apple Watch can be employed without the timepiece being paired with an Apple iPhone.
With the internal storage on the Apple Watch, users can listen to tunes while going for a jog, and leave their iPhone at home. The 2GB of storage will allow you to keep about 200 tunes on your wrist. Users manage their music by syncing with the Apple Watch app that comes with iOS 8.2.
As far as images are concerned, Apple Watch users are allocated 75MB of memory to save photographs. When you import a photo to your Apple Watch, it is optimized to fit the size of the smaller watch screen. Since less space is required, one estimate suggests that over 100 pictures will fit on the Apple Watch's native storage.
In the future, some of the leftover 6GB on the Apple Watch will be use to store resources for apps that are being used. Currently, these resources come from the iPhone that you are pairing with your timepiece and are sent to the watch when an app is in use. This will change once the native SDK is launched.
source:
9to5Mac