Apple Watch vs Android Wear vs Pebble Time: features comparison
19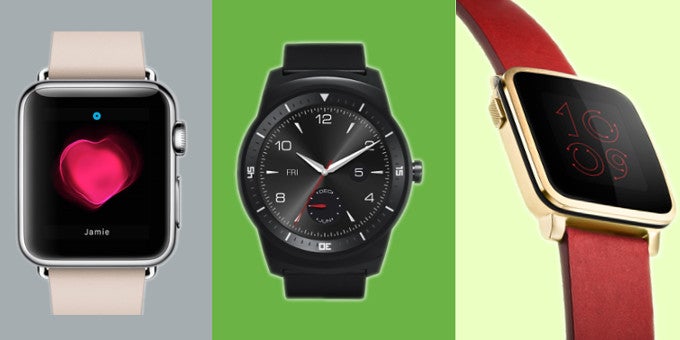 It'll be years until we know for sure, but if anything, Apple's entry onto the smartwatch scene will likely benefit all in the nascent industry by bringing some much needed awareness to the new gadget category. This isn't to say that the Apple Watch will necessarily be better than what's already available on the market – we'll need to get some quality hands-on time with it first in order to know – though it does seem like Cupertino is bringing the most feature-rich experience out of the box.
But by highlighting its product, Apple will also inevitably draw attention to its competitors as consumers start scratching their heads in an effort to make a not-so-obvious decision – how does the Watch compare to the various Android Wear-touting smartwatches and the upcoming Pebble Time? We thought we'd help by compiling two tables that outline the main functional and software features one would expect from their smartwatch.
Design
In terms of the way these are all engineered, we're looking at some serious and quite noteworthy differences. For example, both the Apple Watch and the plethora of Android Wear devices are available in different sizes, while you only get one Pebble Time model, and its bulk is set in stone.
Another important distinction is the use of a touch-enabled displays (Apple Watch, Android Wear) and tactile buttons only (Pebble), and their respective resolution. On that latter count, the Pebble Time trails the competition with its colored e-paper display, but this isn't just an omission on the company's part, but rather a well thought-out strategy that has their smartwatches last as much as five to six times longer than competitors.

Software features
As for software features, it's imperative that you consider compatibility. Apple Watch, for example, only works with iPhone, and Android Wear devices are only compatible with Android devices. Pebble's products, on the other hand, are platform-agnostic and will work with both (and even Windows Phone).
What we especially liked about the Apple Watch is the extended functionality that apps offer right from your wrist, which is a bit unlike Android Wear and sometimes even Pebble Time. In other words, while the majority of built-in Android Wear functionality will give you nothing more than a glance on your wrist before asking you to whip out your smartphone, the Apple Watch's operating system was designed to eliminate the need for that as much as possible.
Lastly, whereas both Apple Watch and Android Wear-based devices offer intelligent voice assistants (Siri and Google Now, respectively), Pebble Time is devoid of such a majorly important feature. That's very much worth considering, especially given how the aforementioned two services are only going to get better and more suited for your wrist.