Apple Watch - the worthy rivals and the viable alternatives
42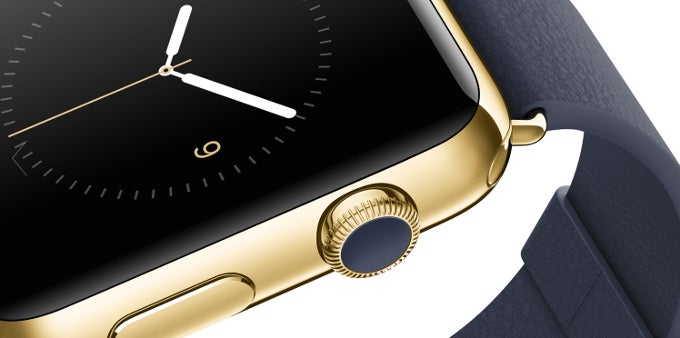 Apple
unveiled the Apple Watch at its keynote on September 9
, the company's foray into smartwatches, and is poised to enter a market which is currently being dominated by some its archenemies - Samsung, LG, and others - with their Android Wear smartwatches. The latter was announced several months ago, and alongside it, the metal-clad
Motorola Moto 360
got announced - a device, which held the attention of many with its compelling and intriguing industrial design, which set it apart from the crop of smartwatches that were currently on the shelves back then.
Several months later, the first Android Wear devices came to life (the LG G Watch and the Samsung Gear Live), and since then, we've been treated to a whole slew of such Android Wear gadgets. But Google's platform is not the single one that powers a compelling wearables these days - a lot of manufacturers have resorted to their in-house firmware solutions in order to make their smartwatches tick and click. As most of the large players on the market have released at least one wrist-worn contender, the Apple Watch will surely face some touch competition. Let's delve in a bit and check out some of its more recent rivals.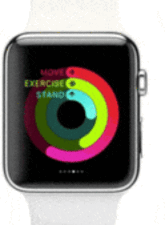 Then again, it's worth mentioning that the Apple Watch and its Android Wear counterparts are closely tied to their respective ecosystems - if you are fan of Cupertino's products, then you'd probably go for the Apple Watch. On the other hand, if you put your trust in Google's ecosystem, then you'd probably want to invest in an Android Wear gadget. Provided that you are eyeing the smartwatches ilk with pleasure, that is.
That being said, let's check out some rivals of the Apple Watch.
Pebble Time Steel
The new Pebble Time got unveiled as a Kickstarter project recently, throwing a gauntlet to the Apple Watch itself. With its all-metal body, up ot 7 days of battery life, and its new Timeline interface that "that highlights what's important in your day" and allows you to easily switch between your "past", "present", and "future". Interestingly enough, for the brief time it has been on Kickstarter, the watch has reaped great success and broke a few records.
The watch comes with a color e-ink display, which is certainly responsible for the commendable battery life. You also have a microphone on board that will allow you to respond to incoming notifications. Just like the very first Pebble, the new Time works along with both iOS and Android.


LG Watch Urbane
The LG Watch Urbane is the company's latest smartwatch and it's undoubtedly one of the better-looking ones we've laid our eyes upon. Donning a classic watch design, you'd have a hard time distinguishing it from a regular watch. It's powered by WebOS, the platform that LG bought from HP in early 2013.
The LG Watch Urbane is an LTE-capable wearable that packs a 700mAh juicer inside. It also boasts health-centric sensors aplenty, as well IP67 waterproofing to shield it from potentially-damaging liquids. It ticks and clicks thanks to a Snapdragon 400 SoC; we also have 1GB of RAM inside the watch, which is a monstrous amount as per the current smartwatch standards.
Huawei Watch
Despite being a bit thick, the Huawei Watch is another viable Android Wear alternative to the Apple Watch. It's made of stainless steel and despite being a bit on the thick side, it's definitely a looker. The front of the watch packs an AMOLED display with a resolution of 400 by 400 pixels, while a Qualcomm Snapdragon 400 chipset tick-tocks inside, complemented by 512MB of RAM.
A surplus of sensors inside the watch further enrich its functionality portfolio - we have a heart rate monitor, a six-axis motion sensor, a barometer, as well as other sensors that count the burnt calories, heart rate, step count, distance traveled, etc. We don't know the exact pricing for this Android Wear champ, though rumors put its price somewhere
in the vicinity of $1,000
.
Sony Smartwatch 3
Sony also upped its smartwatch game by releasing a metal version of its Smartwatch 3, which puts it in the league of the more compelling and well-designed wearables available right now. Its hardware insides are the same as the ones of the regular, plastic Smartwatch 3, but after all, the looks are a bit more important when it comes to wearables, aren't they?
This means that you have a quad-core chipset, 512MB of RAM, 4GB of native storage inside, as well as an 1.6-inch LCD display at the front, boasting a resolution of 320x320 pixels. Powering the whole shebang is a 420mAh battery.
Motorola Moto 360
Here it is, one of the first smartwatches that grasped the public's attention with its compelling and captivating design ever since its existence got revealed several months ago. The Motorola-made wearable was showcased alongside Google's Android Wear, but it was not the first Android Wear gizmo to land on the shelves (the LG G Watch and the Samsung Gear Live stole that crown).
Nevertheless, the Moto 360 was often lauded for its looks and is already available on the market. This compelling metal-made device is water-resistant, has a display with a resolution of 320 x 290 pixels (which results in a dark strip at the bottom of the display), and some 4GB of on-board storage. The smartwatch comes with various straps, most notably leather and metal ones. Surely, it will most probably be lauded as one of the main rivals of the Apple Watch.
LG G Watch R
The
LG G Watch R is lauded as being
the first smartwatch from a major manufacturer to sport a completely round display, which might be a direct jab at the Moto 360's dark strip of unused screen estate at the bottom of the latter's display. The winner in the "Design" department comes down to personal preferences, however, the G Watch R is also a beauty both on the inside and on the outside.
It's a water-proof gadget and is made of stainless steel and has a single-core 1.2GHz Snapdragon SoC inside, half a gigabyte of RAM, and 4GB of internal storage space, whereas a 410mAh battery keeps the circular G Watch R ticking and kicking. It also comes with an interchangeable strap (the default being a genuine calf leather one) and LG revealed that it will be releasing new ones in the upcoming months. Is it a worthy rival to the Apple Watch? Undoubtedly.
Samsung Gear S
Samsung's most recent
Tizen smartwatch, the Gear S
, is the manufacturer's most advanced gizmo of this kind at the moment. It somewhat mimics the distinct design of Sammy's smartphone lineup, as it comes with a small hardware button at its bottom, which is used for interface interaction. Similar to its Android Wear rivals, the Gear S is water-resistant and made of metal, but its arguably most distinct feature is the curved 2" display and the dual-core 1GHz processor inside of it, which makes it one of the more powerful wearables on the market at the moment.
What's more, it's one of the few that have a SIM slot aboard. However, its default strap is a plastic one, which somewhat disrupts the overall feel. While it's not as compelling as some of the Android Wear troopers, the Samsung Gear S is more than worthy of mentioning.
Asus ZenWatch

After a lot of teasers, Asus unveiled its first Android Wear smartwatch, the Asus ZenWatch, at IFA 2014. Its design is nothing short of head-turning, as its stainless steel body is just slightly curved. The 2.5D display is also slightly arched and a leather strap completes the picture. As a whole, Asus has succeeded in making a pretty good-looking device, which comes with "iconic Italian design" (as per Asus itself). The specs sheet of the device is more than adequate, too. A Snapdragon 400, 512MB of RAM, and 4GB of storage aboard the Asus ZenWatch make it a notable representative of the current Android Wear market. Like most of its counterparts, it's water-resistant as well (although coming with a slightly lower, IP55 certification on board).



Done yet? Feel free to check out some of our additional articles regarding Apple's first wearable device by following the links right below.