Android 5.0 Lollipop running on the new Moto X looks gorgeous (video)
25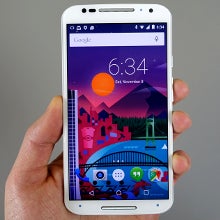 Motorola promised a rapid update of its most popular phones to
Android 5.0 Lollipop
, and it is starting to deliver. First in line is the venerable
Moto X
(2014 edition), some units of which have already been blessed with Google's newest sugary deal. If you own the Pure Edition of the handset, you can even sideload the new firmware directly from our source link below,
as it is now passing through Motorola's own soak test
.
If you want to see how Lollipop's Material Design blends in with the Moto X (2014), check out the video below, but bear in mind that only a few owners who have signed up for the soak test have received this (well, and a few others, which was likely a glitch), and the final version might be slightly different. Motorola also promised timely updates for the
Moto G
and
Moto E
, so in the next few days it might be beating none other than Google when it comes to Android 5.0 availability for its handsets.
Well, the
Nexus 6
availability, and the older Nexus devices' Lollipop updates
are scheduled to begin tomorrow
, so we'll see who wins the races this time. In the meantime, after enjoying
LG G3
and
Galaxy S4
running Android 5.0, check out the second generation Moto X doing this same song and dance.