Check out this video of Android 5.0 Lollipop running on LG G3, and download the firmware
16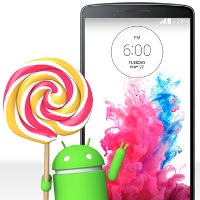 LG, it seems, will be beating everybody to the punch,
starting to roll out the Android 5.0 Lollipop update for its G3 flagship as soon as this week
, which is an amazing achievement in the land of the tiny green robot. Well, while we would have bet that the initial rollout will happen in the homeland, LG actually said that it will be first appearing in Poland, while the video below of a G3 running Lollipop is shot on a unit with a China Unicom card, so things are progressing nicely on more continents, it seems.
The company has a factory in Poland, and
the first screenshots from G3 running Android 5.0
were actually made official by the official Polish LG blog, so the Old Continent should be proud. In any case, that same test Android 5.0 Lollipop firmware has leaked out for the F400S model, too, so if you want to give it a go, and are brave at heart, hit the source link, but make sure you watch the video to see what you will be getting. We'd advise that you wait for the official OTA update, though, which shouldn't be far behind.