Analysts throw cold water on the idea of RIM licensing BB10
9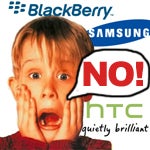 Earlier in the month we reported on rumors that Research in Motion
was looking to license
its QNX-based BB10 operating system to other hardware vendors, especially Samsung and HTC. Sources speaking to Barrons supported the idea, and a later report to BGR on RIM possibly
selling themselvse entirely
also confirmed that RIM was looking into licensing , but now several analysts are throwing cold water on the idea. According to their view such a move isn't consistent with RIM's market history, and possibly wouldn't garner interest even if they did want to license their new OS.
We aren't convinced that RIM's past preference to offer only integrated solutions ala Apple is necessarily a good guide for what they hope to do in the future – their
market share
isn't exactly peaches and cream these days, so they may be considering strategies that in the past would have been shunned. More damning are the arguments that RIM may not find a willing market for their new OS.
Analysts from both NPD Group and Informa make similar points: what will BB10 be able to offer vendors that Android and WP7 don't? The last year has already seen several high profile mobile operating systems get an end of life sentence, including
webOS
,
Meego
, and
Symbian
, so there may be little incentive for handset manufacturers to invest in yet another new operating system.
It's also worth noting that BB10 with training-wheels is already on the market in RIM's poorly-received
PlayBook
tablet. Unless sales and consumer satisfaction climb substantially after the 2.0 update that's expected in February, there will be no evidence to suggest that BB10 will be a winner with consumers, and plenty of evidence against it.
It's still possible to envision a scenario where licensing of BB10 would happen – perhaps the update to the PlayBook is really amazing, and they've been able to impress OEM's with BB10 running on demo hardware (although this would be at odds with reports that BB10 was still
a long way from being finished
). If Samsung or HTC thought RIM had a real hit on their hands, especially one that might prove more popular than WP7, it's possible they would consider a switch.
But between industry analysts and consumer dollars, RIM isn't getting many votes of confidence these days. Do you think RIM should license BB10 to other companies? Should Samsung or HTC take them up on it? Let us know in the comments section!
source:
FierceWireless