RIM reportedly hoping to sell itself to Samsung
31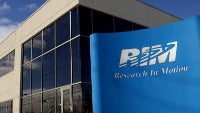 Research in Motion's market share problems have been well documented, so perhaps it shouldn't have been a shock when we reported that RIM was looking to
license its upcoming BlackBerry 10 OS
to vendors HTC and Samsung. Or when they got in contact with
Goldman Sachs
for advice on a possible sale. Now, according to sources speaking to BGR, RIM is pushing hard to sell the entire company to Samsung.
Continuing
delays in BB10
products and the
unmitigated hemorrhaging
of market share is quickly coming to a head
with RIM's investors
, and apparently the preferred solution now is to sell off either part of the company, or be acquired in its entirety.
Samsung is reported to be the first choice, and in many ways RIM would be a good match for Samsung. In addition to making BB10 handsets, Samsung could also leverage RIM's BBM and enterprise software to improve and differentiate their Android handsets. RIM also has many patents, some of which might prove useful in the ongoing smartphone patent wars.
So should we expect a deal soon? Naturally enough neither Samsung nor RIM was interested in commenting on the story. According to BGR's sources, the major sticking point is price. RIM is reported to be asking for $12-15 billion, despite a market cap of $8.5 billion. While companies like Motorola also commanded a significant premium during their buyout, many analysts feel that RIM's market cap is still over-valued, making the 50%-90% premium price hard to swallow.
Obviously these are just rumors for now, but BGR has a track-record of getting inside tips from RIM. 2012 is already shaping up to be a year full of surprises!
source:
BGR
Recommended Stories