RIM to license BB10 to Samsung and HTC?
36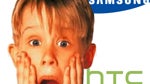 If a report in Barron's proves to be correct, the industry could be in for a seismic shift in the coming year. According to Jefferies & Co analyst Peter Misek, Research in Motion is moving to license its BlackBerry 10 software to other hardware OEMs later this year, including Samsung and HTC.
A move like this might explain why RIM has
whittled down
the number of handsets it is working on. Having to compete against other manufacturers would most likely create a squeeze on RIM's hardware division, at least in the short term. On the other hand it might help buoy up market share of BlackBerry devices. Aside from licensing fees, RIM also gets revenue from BES and other services that run on its BlackBerry operating system, so licensing could prove to be more lucrative for them over the long haul.
Of particular interest would be if major Android and WP7 OEMs Samsung and HTC end up making BlackBerry smartphones. This diversifying of their product portfolios may be in response to
Google's purchase of Motorola
, which some manufacturers may view as creating a conflict of interest at Google. It may also be in response to
legal pressure
and
patent licensing
costs many Android OEMs face today. If OEMs are looking find a viable second platform to support, the decision may also be driven in part by the
poor sales of WP7
and
Microsoft's special treatment of Nokia
.
In the end OEMs care most about what consumers want to buy. If a strategy of licensing BB10 to other companies is to work, RIM will have to make their next-generation mobile OS compelling enough to draw in customers away from Google's Android and Apple's iOS ecosystems. As Microsoft has learned over the last 18 months, that's easier said than done.
Would you be interested in purchasing a BB10 handset from Samsung or HTC? Let us know in the comments below!
source:
Barron's
via
BGR