Analyst: Microsoft Surface sold only 1 million units last quarter
30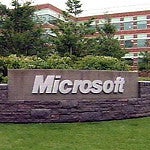 UBS analyst Brent Thill believes that the
Microsoft Surface
powered by Windows RT had two problems keeping sales down in the December quarter. One was competition from the
Apple iPad
and the other was limited distribution of the tablet. As a result, Thill has cut his estimates on fourth quarter sales of the tablet to
1 million units
from his previous call for 2 million tablets that were sold. The new forecast fits in with the
1.3
million in Microsoft Surface RT sales expected by Rhoda Alexander of IHS iSuppli, to be reported by the Redmond based manufacturer for the December quarter.
disarray
" Detwiler Fenton dropped its Q4 forecast of Microsoft Surface RT sales from 1 to 2 million
to just 500,000 to 600,000 units
. To put these estimates in perspective, a median figure from Wall Street and independent analysts call for
Apple to report the sale of 24 million Apple iPads
in the same three month period ending last December.
Thill is much more excited about the prospects for the
Microsoft Surface Pro
model,
expected to be released later this month
. Powered by Windows 8 and using an Intel processor, this model is much more similar to a regular PC than the Microsoft Surface RT. The latter is more like a regular Android tablet and Apple iPad in capabilities, and uses ARM supported processors. The Surface Pro runs desktop applications and has more power, and since it is more comparable to a desktop PC, Thill sees the more expensive model as an alternative to the Apple iPad for
enterprise users
. After all, business workers are used to how Windows works on their desktop computer in the workplace. For Microsoft's fiscal year 2013, which ends in June, the UBS analyst expects that 2.5 million Microsoft Surface Tablets will have been sold, increasing to 8 million for fiscal year 2014.
source:
CNET