Estimates show 16.8 million to 32 million Apple iPads were sold in Q4 2012
18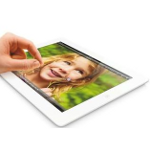 25.5 million tablets
were sold in the period versus a forecast of
22.8 million
by the Wall Street guys.
The median estimate of 24 million Apple iPad sales in the fourth quarter would represent a
55% increase from last year
. But after taking into consideration the extra week that the fourth quarter of 2011 had, the actual year-over-year increase would be 67%. The high estimate for iPad sales in the quarter was 32 million, while on the low end, it was 16.8 million.
2012 was quite a year for Apple's tablet. In March, the
third-generation of the Apple iPad
was launched with a 264ppi Retina display. That was followed up with the surprise introduction of the
fourth-generation Apple iPad
in November along with the 7.9 inch
Apple iPad mini
. The latest speculation calls for the
fifth-generation iPad and an Apple iPad mini 2 to be launched in March
. There is still a big question about whether or not the sequel to the "mini" will have a Retina display, although the latest rumor did not mention that the higher resolution screen would be on the model.
source:
Forbes