iPhone SE (2022) vs iPhone SE (2020): all the differences
9
We may earn a commission if you make a purchase from the links on this page.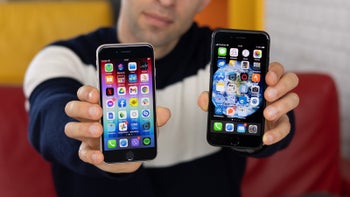 Intro
The third generation iPhone SE (2022 edition) and the second-generation SE (2020 edition) look so similar that it's hard to tell them apart, even for a seasoned phone vet.
Both have that classic "iPhone with a button" look, and this has its benefits: the phones are very compact and lightweight. But then what's new and different on the third generation SE? There is not a huge list of changes, but you do get a newer processor, 5G connectivity, better camera, and a few other improvements.
Is this enough for users to upgrade from the second generation iPhone SE (or from an even older model like the iPhone 7/8, etc)?
Let's take a closer look.
iPhone SE (2022) vs iPhone SE (2020) differences in a nutshell:
A15 chip vs A13 chip
More durable glass on 2022 model
Improved image quality
Improved video quality, especially in low light
5G connectivity
Slightly longer battery life
$30 higher starting price on newer model
iPhone SE (2022) pros and cons


iPhone SE (2020) pros and cons


Design and Display Quality
Old rather than gold
Being traditional and classic are often considered good things, but it's really about the choice of words. Being "Classic" sounds cool, but being "old" is not something you usually want to hear.
Yet, time has taken its toll and it's a situation where we have a bit of both here, the "classic" and the "old".
First, just look at those bezels and that small screen! That definitely looks out of place on a phone launched in 2022, be it even a budget model.
The difference in build quality is hard to spot unless you look at the spec sheet: the newer SE (2022) features a newer and more durable glass, so hopefully it won't shatter the first time you drop it. The colors are also similar, the black and Product RED seem downright the same, but you no longer have a "white" model, and instead a slightly muddier "starlight" shade of white.
The physical dimensions of these two are exactly the same, but the weight is a tiny bit different: 148g on the older model vs 144g on the newer one.
Our biggest concern, however, is the screen. 4.7 inches, LCD, 750p resolution on both, with the tired "Retina" label on it. This is definitely an "old" kind of situation rather than a "classic". This screen is just a bit too tiny for people who actually do stuff on their phones. And, it's LCD, the older screen tech, where colors appear bleaker than OLED, and they are just not as vibrant and enticing. No HDR support on either phone. Yes, we expect a lot more out of even a budget phone's screen these days.
Display measurements and quality
No difference in the biometrics either, but that might be for the better: the Touch ID fingerprint scanner here is fast and accurate on both phones. And it doesn't care whether you have a mask on or not, it works just fine both ways.
Performance and Software
The A15 is faster, yes, but it might be more about future-proofing and new features
So you probably remember that the iPhone SE (2020) kind of shook the budget smartphone market two years ago with the combination of a budget price and a flagship processor. That was new and shocking then. These days we have grown accustomed to this and it was almost expected for the SE (2022), yet it's impressive nonetheless.
At the same time, many people will point out that having the latest and fastest processor is now what really matters as phones have already grown fast enough. And we see that argument: after all, most basic tasks will run just as good on the 2022 model as they do on the 2020 model.
So while the A15 chip is no joke, it's as much about speed as it is about future proofing and ensuring a long update cycle on the new SE.
In terms of software updates, that's where the 2022 model has the upper hand: the SE (2020) will eventually get dropped in probably 2-3 years, while the newer version will stay relevant for probably 5 years to come. That's a big argument that should not be overlooked, especially if you stick with phones longer.
On the connectivity front, both models have 4G LTE, but the SE (2022) also brings 5G power. Admittedly, without the fancy mmWave magic for urban areas, but you probably shouldn't be too upset as coverage is scarce on that. It does have sub6 type of 5G that will keep you covered in far more places.
One thing missing on both SE versions is UWB, or ultra-wide band, something useful for faster AirDrop functioning.
Camera
One camera, but it's a doozy
If you harbored high hopes the newer SE would bring more cameras, well, it doesn't.
What it does, however, is bring most of the computational magic out of the iPhone 13 flagship family, including computational photography magic, optimization of pictures for color and detail, and the Smart HDR 4 engine that enhances color, contrast and noise. You also have support for Photographic Styles to create your personal well... photo style!
What does this mean for actual photos?
iPhone SE 3 vs iPhone SE 2 Camera Samples
As you can see above, daytime photos look practically identical. You can spot slightly more saturated colors on the newer phone, as well as a slightly better recognition of objects in portrait mode (parts of my glasses are correctly separated from the background on the SE 3 vs SE 2), but it's all really incredibly similar.
Not only that, but the A15 also lifts up video quality on the SE (2022), reducing noise and especially so in lower light. Both SE versions use optical image stabilization (OIS) rather than the newer sensor-shift tech on the iPhone 13 series, in case you were wondering.
If you pause the video for a moment, you would easily notice how much more saturated grass and colors in general appear on the SE (2022), giving the picture a more lively, vibrant feel. During the continuous autofocus test, you can also see how the new SE adjusts for sudden changes in exposure more gradually.
Overall, the SE is a subtle improvement over its predecessor, and both remain one of the most capable phones in this budget price range, despite their limitations.
Audio Quality and Haptics
Apple has made one of the best loudspeakers on smartphones with the iPhone 13 series, it's just incredible the oomph and power you can get out of those speakers, but the magic hasn't fully carried over to the SE (2022) which is just too thin and compact, and looks as if it retains the same sound quality as the previous model. Decent, not great. Both the new and older version feature a bottom firing speaker working in close collaboration with the helper speaker in the earpiece.
And on the headphone jack front... come on, you didn't really expect Apple to suddenly bring back the jack, did you?
Battery Life and Charging
Unexpected, small, but improvement nonetheless
One of the main limitations of the iPhone SE design is that it is just so thin and compact that you cannot fit a large battery inside that body, and the new iPhone SE unfortunately carries that limitation over.
However, despite all that Apple somehow managed to deliver better battery life! That's exciting as this was the Internet's number one complaint against the SE (2020).
Our standard battery tests where all phones are set at the same brightness and go through a web browsing, YouTube streaming and 3D gaming tests, show the following:
PhoneArena Battery Test Results
And official Apple numbers show that the new iPhone SE lasts 15 hours vs 13 hours for the SE (2020) for video streaming. The iPhone 11 in comparison has a battery that lasts for 17 hours of continuous video playback, same with the iPhone 13 mini, and the bigger iPhone 13 can go all the way to 19 hours.
| | Video Playback | Video Streaming | Audio Playback |
| --- | --- | --- | --- |
| iPhone SE (2022) | 15 | 10 | 50 |
| iPhone SE (2020) | 13 | 8 | 40 |
| iPhone 11 | 17 | 10 | 65 |
| iPhone 12 | 17 | 11 | 65 |
| iPhone 13 mini | 17 | 13 | 55 |
| iPhone 13 | 19 | 15 | 75 |
*all values above are measured in hours.
So yes, battery life still remains a limitation of the SE (2022), but not as much as before.
The maximum charging speeds this new iPhone SE supports are up to 20 watts, so no change here. According to our measurements, with an official Apple charger, a 15-minute top-up gives you about 30% battery life back, a 30-minute top-up gives you about 55% battery, and a full 0 to 100% charge takes about 1 hour and a half on both. Definitely not the fastest around, that's for sure.
Both phones support the rare for this class wireless charging feature, but since they are so thin, you don't get the magnets for MagSafe that you have on the iPhone 12 and iPhone 13 series, so no magnetic tricks are possible here.
Summary and Final Verdict
So... the iPhone SE (2022) is fundamentally the same package. The looks haven't changed, but you now get 5G connectivity, a faster processor and an improved camera. It also retains the familiar "iPhone with button" design. Put simply, it's a classic that Apple sticks around with.
But it doesn't address the big issues with this design like the battery life concerns or the small-sized, older generation screen.
An upgrade from the previous model, doesn't really seem all that pressing if you are still happy with the 2020 edition.
So... did Apple do enough and would you get an iPhone SE (2022) for yourself or family and friends? Let us know what you think below!