Samsung Galaxy S21 Plus vs OnePlus 9 Pro
We may earn a commission if you make a purchase from the links on this page.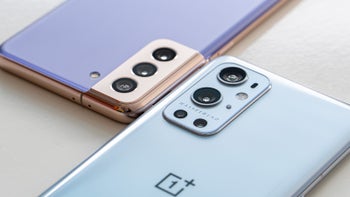 We didn't have to wait long after the start of 2021 to get the first major release for the year. Samsung's uber-flagship, the
Galaxy S21 Ultra
, and the two more reasonable offers,
the Galaxy S21 and S21+ are now official
. Sooner or later, they'll have to face a fierce competitor: the
OnePlus 9 Pro
. From the new trio, the
Galaxy S21+
is destined to be the direct opponent of the 9 Pro.
Samsung
surprised us this year with a price reduction across the whole S21 line. That, combined with
OnePlus
's creep towards higher prices, means that the two phones might be as closely matched as ever, at least as far as their price tags are concerned.
And while we're still far from the official release of the OnePlus 9 Pro, it doesn't hurt to go through what we know and what we can safely assume about it and compare how it will stack against the new
Galaxy S21+
. Of course, as we learn more about the OnePlus 9 Pro, we'll make sure to update this article to accurately represent the up to date situation.
Samsung Galaxy S21 Plus vs OnePlus 9 Pro: Design comparison
When it comes to design, unsurprisingly, there aren't any major changes between the new generation and the previous one, on both sides.
One the Samsung side, there are two notable changes made to the design of the
Galaxy S21+
. First is the design of the camera bump that now flows over the
edge
of the phone. The other is that the 6.7-inch display of the
Galaxy S21
+ will be completely flat unlike last year's S20+, which still had a slight curvature around the edges. It seems that after being the company that pioneered the curved-edge displays, Samsung is also the first to start phasing them out.
The hole-punch selfie camera is still at the top-center position, no under-display cameras for the S-series just yet.
OnePlus, on the other hand, is still in loved with curved displays, at least when it comes to its Pro models. The body of the 9 Pro looks almost identical to that of the
8 Pro
.
The OnePlus is also getting a corner camera bump much more similar in design to a Samsung one from 2020, unlike that of the previous OnePlus models. The 9 Pro will keep the corner front-facing camera as well, which is the preferred look for many people.
Here's a quick summary of what the displays of the two phones:
| specs | Galaxy S21+ | OnePlus 9 Pro (expectations) |
| --- | --- | --- |
| Size | 6.7" | 6.8" |
| Resolution | 2400 x 1080 | 3168 x 1440 |
| Type | Dynamic AMOLED | AMOLED |
| Refresh rate | 120Hz | 120Hz |
| Shape | Flat | Curved |
It's worth noting that Samsung is scaling back the resolution to 1080p, leaving 1440 only on the
Galaxy S21 Ultra
. OnePlus, on the other hand, is expected to stick to QHD for its top phone despite it expected to be cheaper than the S21+.
But the Galaxy S21+ display has a trick up its sleeve. The refresh rate is adaptive and can automatically go down to 48Hz when you don't need the extra frames. That should have a positive impact on the phone's battery life. Will OnePlus try to do something similar we're yet to find out.

Samsung Galaxy S21 Plus vs OnePlus 9 Pro: Specs comparison
In terms of specs, in the US both models will almost certainly have the Snapdragon 888, while the international version of the S21+ will likely have Samsung's own Exynos 2100. As for the RAM, we might see both get a bump to 16GB but to be fair, 12 is already plenty so Samsung and OnePlus might save some money and keep it at that. For storage, 128GB will likely remain the base for the Galaxy S21+ while OnePlus might go for a 256GB base storage option in the States, as it did with the
OnePlus 8T
.
Galaxy S21+
OnePlus 9 Pro (expectations)

CPU

Snapdragon 888 (US)

Exynos 2100 (Global)

Snapdragon 888

RAM

8GB LPDDR5
12GB LPDDR5

Storage

128GB

256GB

Battery

4,800mAh
4,750mAh

Wired charging

30W
65W

Wirelss charging

Yes
Yes

5G

Yes
Yes

IP68 rated

Yes
Yes
No battery leaks around the OnePlus 9 Pro yet, so for now we're betting on capacity close to that of the
OnePlus 8
Pro. Тhe Galaxy S21+, meanwhile, got a bump to 4,800mAh. Combined with the more efficient 5nm chip, the 1080p display and the adaptive refresh rate, the result should be a big jump in battery life for the Samsung phone.
In terms of charging, the OnePlus will likely be well ahead. The company has traditionally been pushing the envelope when it comes to charging speeds and we doubt the OnePlus 9 Pro will be an exception.
It's worth mentioning that Samsung decided to follow Apple once again and not provide a power adapter in the box of the Galaxy S21+. Hopefully, OnePlus won't get on that train but it's still early to say.
Samsung Galaxy S21 Plus vs OnePlus 9 Pro: Camera comparison
Some unexciting here, at least in camp Samsung. The Galaxy S21 Plus has an almost identical camera system to its predecessor. This means a 12MP main sensor, a 64MP one that serves as a telephoto camera, and another 12MP sensor but this time with a ultra-wide-angle lense. The depth sensor from the
Galaxy S20+
is missing from the S21+, a loss no one would care about.
The OnePlus 9 Pro is expected to have a quad-camera setup, at least according to the leaked design renders. The main-telephoto-ultrawide trio is a given but what sensor each of the cameras will get is still unclear, so we've populated those slots with the OnePlus 8 Pro sensors. The fourth camera will likely be a depth sensor, a macro camera or a black and white one, so nothing new and fancy on the OnePlus either.
| specs | Galaxy S21+ | OnePlus 9 Pro (expectations) |
| --- | --- | --- |
| Main | 12MP | 48MP |
| Second | 12MP Ultra wide | 48MP Ultra wide |
| Third | 64MP Telephoto | 8MP 3X Telephoto |
| Fourth | N/A | Macro/depth |
| Front | 10MP | 16MP |
Which phone will perform better will be mostly decided by the camera software. OnePlus keeps improving but Samsung isn't sleeping either, so it will be interesting to see which one comes on top at the end.

Samsung Galaxy S21 Plus vs OnePlus 9 Pro: Software comparison

Software is a big differentiator between Samsung and OnePlus. OnePlus phones run OxygenOS, which keeps the overall aesthetics very close to those of the "stock" Android, but enhanced with some extra features OnePlus deems essential. It's fast and light and you get only a few OnePlus apps preinstalled, everything else is Google's own apps.




Meanwhile, on Samsung's side, the situation couldn't be more different. The Galaxy S21+ and its siblings are coming with the latest One UI

3.1

built on top of Android 11. The Samsung software looks completely different from what Google envisions, has a ton of added functionality and a plethora of preinstalled Samsung apps. The good news is that Samsung is moving in the right direction and

One UI 3.0

not only looks good but new features and improvements are made constantly. People who are used to Samsung's UI might find OxygenOS lackluster. Those are the users OnePlus is going after with the OnePlus 9 Pro, so the company might have to rethink its bare-bones approach at some point. Still, OxygenOS has a strong following as well, so which one you'll prefer is mostly up to the type of user you are.
Samsung Galaxy S21 Plus vs OnePlus 9 Pro: Price comparison
We mentioned prices a few times already, so let's see what we're looking at right now:
The Samsung Galaxy S21+ starts at
$999
.
If OnePlus sticks to its current pricing, the OnePlus 9 Pro should start at
$899
.
Conclusion
Of course, making conclusions at this stage is nonsensical, as the OnePlus 9 Pro is still in the ether. But from what we know so far, we still have some takeaways.
With Samsung pulling back from its uber-premium pricing, OnePlus is facing tougher competition than ever before. A $100 price difference isn't much, especially if you spread it over 24 monthly payments. If last year people were willing to make some sacrifices because the OnePlus 8 Pro was $300 cheaper than the
Galaxy S20
+, this year OnePlus has no room for errors.
The OnePlus 9Pro has to deliver on all fronts, mostly in the camera department. If it succeeds, and manages to keep some of its specs-sheet advantages, we can see it being the better phone overall. But even then, OnePlus is facing Samsung's multi-billion-dollar marketing machine. If OnePlus doesn't manage to steal some mind share from Samsung, the OnePlus 9 Pro will remain a winner only among tech enthusiasts. And while that's no small feat, it's not what OnePlus is aiming for anymore.
It will be an interesting showdown for sure and we can't wait to have both phones in our hands and put them to the test.