Samsung Galaxy Note 8.0 vs Apple iPad mini
29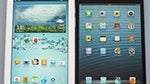 Introduction
It was clear right from the start that the
Samsung Galaxy Note 8.0
and the
Apple iPad mini
will be direct competitors. Both devices are fighting for almost exactly the same customers – those who're on the lookout for a tablet, but a compact one. One that you can carry easily with you and hold like a real notebook.
But with two wonderful products like the Galaxy Note 8.0 and the iPad mini, the choice you have to do will surely not be easy. Both have valuable and different assets that will make you ask yourself which one to get... again, and again, and again... Let's see what we can do to help you with your choice!
Design
Let's start by comparing the external designs of the Note 8 and iPad mini! The two manufacturers have clearly chosen completely different paths when it comes to the design. The Note 8 has a glossy-plastic construction which feels good to the touch and makes the device easy to hold even with one hand only. Meanwhile, the iPad mini has a premium body made of metal. Apple's device is equally comfortable to hold. Don't be fooled by the thinner side bezels of the iPad mini. That won't cause any accidental presses because Apple has tweaked the device in such a way that it won't detect your thumbs (resting on the bezels and part of the screen) as presses. This will work in about 9/10 cases, which is about the same success rate you'll get with the wider bezel of the Note 8.0.
Both tablets are quite thin, though the iPad mini pushes this to the extreme. Apple's tablet is just a bit lighter – it weighs 312 grams versus 338 grams for the Note 8.0, but the difference in weight is pretty much negligible.
Display
Both devices use LCD TFT screens, but there's some noticeable difference between the two. Apple's product features a 7.9" screen with a resolution of 768 x 1024, while the Note 8 has an 8" screen with a slightly higher resolution of 800 x 1280 pixels. This difference may not seem so big, but it's just enough to make things on the Note 8's display a bit easier to read.
Color tones on the iPad mini, however, are more natural, as those on the Note 8.0 tend to gravitate towards the colder side. Viewing angles, brightness and outdoor visibility all seem to be pretty similar, but the Note 8.0's screen can become dimmer, which is very handy when one's using the tablet in the dark.
Recommended Stories