Google Nexus 7 (2013) vs Apple iPad mini
19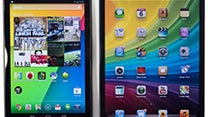 Introduction:
Last year's
Google Nexus 7
really shook things up with its oh-so lovable price point, which showed us that cheap can actually translate to mighty great! In response, Apple opted to follow suit by bringing to market a smaller and more inexpensive version of its beloved tablet – the aptly named
iPad mini
. Without skipping a beat, Google brought its A-game yet again by introducing its updated model very recently, the 2013 version of the
Google Nexus 7
, which surprisingly enough continues the former's affordable pricing – while getting a notable boost in the specs department. Looking at the big picture, one can argue that it kind of puts the iPad mini in a pickle.
Design:
Google could've gone the premium route too with its new Nexus 7, but they opted to continue with the modest and humble design that made the original likeable in the first place. Sure, the premium element is highly prevalent with the iPad mini's skinny brushed aluminum frame, which undoubtedly also has the sturdier construction. On the flip side, though, we can't help taking notice of the Nexus 7's easy to handle feel, as it's not as wide as its rival – enabling us to comfortably grip it with the hand. In contrast, we're required to stretch our hand out just to hold onto the iPad mini! At the same time, the soft touch rubbery casing of the Nexus 7 really complements its modest design stature.
Display:
There's a clear victor in this particular department, seeing that the Nexus 7 stands out immensely for its super sharp 7-inch 1920 x 1200 IPS-LCD panel – delivering a crazy pixel density of 323 ppi. By now, the iPad mini's larger 7.9-inch 1024 x 768 IPS-LCD display looks remarkably dated, seeing that it lacks the clarity and meticulous detail of its rival. Seeing that the two share the same display technologies, they both benefit from the panels' neutral color reproduction, good viewing angles, and strong brightness output – though, it looks as though the Nexus 7's display is a smidgen brighter. Once the dust settles, there's no arguing that the Nexus 7 is the clear champ!
Recommended Stories