Samsung Galaxy Note 8.0 vs Google Nexus 7
22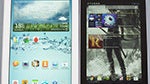 Introduction
Released in the middle of 2012, the
Google Nexus 7
by Asus remains a worthy competitor in the small tablet space. Armed with more than decent hardware and an ultra-aggressive price tag, the Nexus 7 is not to be taken lightly, not even by more ambitious products such as the
Samsung Galaxy Note 8.0
.
Samsung's new tablet is entering a very interesting market. Between super-affordable, yet potent tablets like the Nexus 7 and more premium offerings like the iPad mini, will the Galaxy Note 8.0 and its S Pen find a way to capture a decent share for themselves?
Let's see how the Note 8.0 can handle its opponents of the affordable type, namely the Google Nexus 7!
Design
Although the Nexus 7 is the smaller tablet, as it only features a 7-inch display, it strangely isn't more comfortable to hold and carry than the Galaxy Note 8.0. Quite the contrary, we find it easier to hold the Note 8.0 with just one hand (like a small notebook), and then even swipe left and right using the thumb of the same hand. We find it harder to replicate this on the Nexus 7, as it starts to fall from our hand.
We attribute this to the slipperier type of plastic used for the Nexus 7, as well as the more ergonomic shape of the Galaxy Note 8.0.
In terms of weight, both tablets are almost exactly the same, but as we said, the Note 8.0's shape and materials make it the more comfortable tablet to work with.
Display
While the Nexus 7 features a 7" display, which is as small as you would want to get when it comes to small tablets, the Note 8.0 naturally comes with a slightly larger, 8.0-inch screen. The difference isn't small, as everything on the Note 8.0's screen looks bigger and easier to read.
Both devices have the same resolution: 800x1280 pixels, which means that the Nexus 7 has a slightly higher pixel density, making things look a bit clearer. Still, we actually find it easier to read text on the display of the Galaxy Note 8.0, as it finds a better balance between sharpness and size.
Color tones, however, are somewhat more natural-looking on the Nexus 7, as those on the Note 8.0 seem to gravitate heavily towards the colder side. As far as visibility and comfort go when using the tablet in very bright or very dark lighting conditions, the Galaxy Note 8.0 easily takes the first prize as it can get both brighter and dimmer than the screen of the Nexus 7. One complaint we have about the screen of the Nexus 7 is that it actually can't get very dim, which makes reading in the dark a bit of a pain.