Apple iPad mini vs Google Nexus 7
73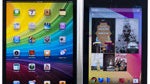 Introduction:
Finally venturing off into a new size category, Apple now has a direct competitor to the renowned
Google Nexus 7
, which was recently updated slightly with more memory. Although it's quite obvious that one is indeed smaller than the other, there's no questioning that many consumers are going to keep the two into consideration when shopping around for compact sized tablets – as opposed to the traditional hunky ones we're commonly exposed to. In the end, it goes without saying that there are a lot of people curious to know which of the two should they invest their money in, but more importantly, which one will deliver the most value.
Design:
Rather than stating the obvious, we'll merely point out some of our likes and dislikes between the two. For the
iPad mini
, it surely stands out most for its impeccable construction, higher-quality choice of materials, and its incredible svelte body (0.28" thin), which we have to admit, makes the Nexus 7 look hulky (0.41" thick) in comparison. Conversely, we find the Google Nexus 7 easier to handle in the hand, which is attributed to its narrower body. Ultimately, it's hard to overlook the iPad mini's superb construction, which goes to show why it's the higher priced tablet.
Seeing that it's delivering the pure Android experience, the typical set of Android
buttons
are incorporated into the Nexus 7's interface – whereas with the iPad mini, it's still rocking Apple's distinct recessed home button.
Sharing many commonalities around their trims, these include their microphones, 3.5mm headset jacks, power buttons, volume controls, and power/data ports. With the latter, however, the Google Nexus 7 relies on the favorable microUSB port – with the iPad mini opting to employ Apple's new Lighting docking port. As for their speakers, the iPad mini features left and right ones on its bottom trim, while the Nexus 7 has a single small strip in its rear.
Are you the kind of person who doesn't have any shame
snapping photos
with a tablet? If so, then you'll probably want to stick with the iPad mini, since it packs a front-facing 1.2-megapixel camera that's capable of shooting 720p videos, and a 5-megapixel autofocus rear camera for all your usual shots. Oppositely, the Nexus 7 only packs a single one – a front-facing snapper and nothing more!
Display:
Strangely, some people will be irked in their attempt to fathom how one tablet is priced more, but has the lower resolution display between the two. Even though the iPad mini is flaunting a larger 7.9-inch IPS LCD display, it's simply lacking any sharp details with its surprisingly low resolution of 1024 x 768 (162 ppi). In contrast, the Google Nexus 7 impresses us more with its attention for detail thanks to its 7-inch WXGA 1280 x 800 IPS display (216 ppi). From a normal distance, one would have a tough time trying to distinguish which of the two is exhibiting the sharper visuals, but upon closer inspection, the question is soundly put to sleep, as the Nexus 7 delivers the goods. However, they do share some other very favorable aspects – like their iridescent color tones, wide viewing angles, high brightness output, and good outdoor visibility.
Recommended Stories