Samsung Galaxy Note 8 vs Galaxy S8+
26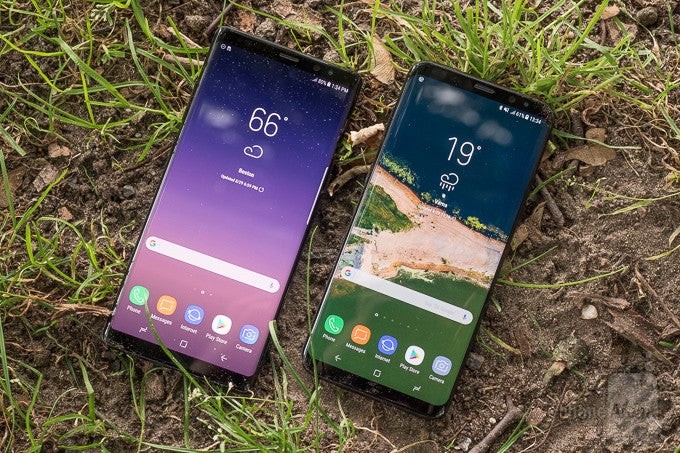 Introduction
In a parallel universe where all our comparisons fit in a tweet, this one would probably say "Just get the Galaxy Note 8", followed by a bunch of hashtags and emoji. But in the current, we take a much more in-depth approach to our 1v1 articles, even when one of the phones is clearly superior to the other, as is the case here.
Both the
Samsung Galaxy Note 8
and the
Galaxy S8+
are big and powerful, attractive in appearance, and loaded with more software goodies than you'll ever have the need for. But only the Note 8 has a dual camera -- one enabling bokeh effects and providing real 2x zoom. And only the Note 8 has the S Pen digital stylus for note-taking, drawing, and image editing. This makes it the obvious choice, but is it really the better pick once we take pricing into account? Let's dive in and find out.
Design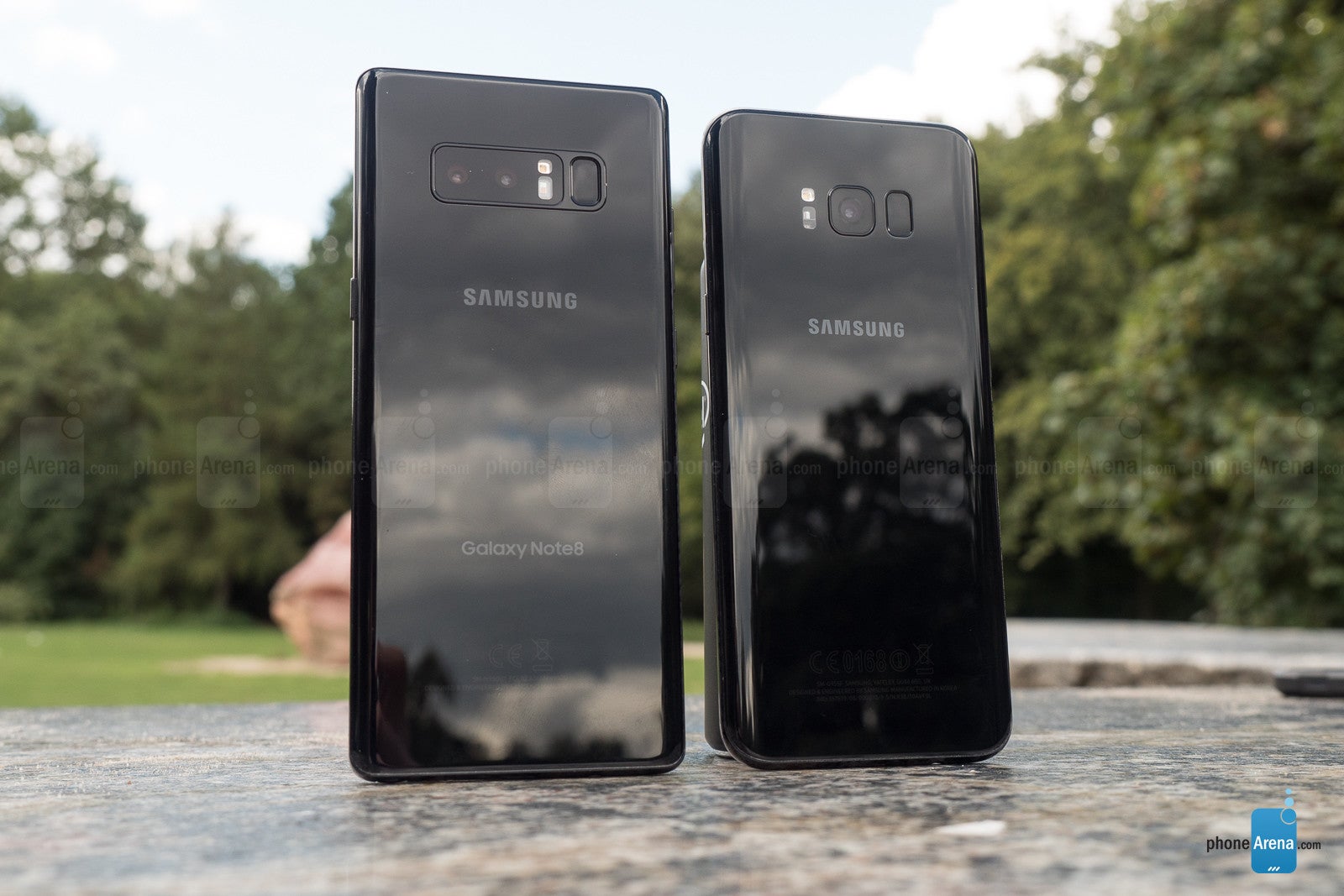 When it comes to looks and feel, the Galaxy Note 8 and the Galaxy S8+ tick lots of the right boxes. Their so-called Infinity Displays -- with minimal bezels and occupying nearly all of their front sides -- give them a futuristic look, while the glass-and-metal construction has "premium" written all over it. But when it comes to feel in the hand, the curved corners give the S8+ a slight advantage ahead of the boxier Note 8. In case there's any doubt, both handsets are humongous, but if you weren't okay with this, chances are you wouldn't be reading this comparison in the first place.
Alas, there are downsides to the Infinity Design approach, and it's not just the higher odds of cracking the Note 8 or the S8+ if you drop it. Both phones have their fingerprint scanners placed at an odd, offset position at the back, where they're trickier to hit without looking.
On the topic of durability, it is great that both phones come with IP68 water resistance, as any proper high-end phone should. That extends to the S Pen on the Note 8, meaning that you're free to jot down notes in the swimming pool like a boss.
Looking around the sides of both handsets, you'll find the usual volume and power buttons, as you'd expect. Samsung has also added a button dedicated to activating Bixby, its own virtual assistant. Too bad that the button is not programmable, and pressing it by accident is not impossible as it is placed opposite to the power button on the other side.
Display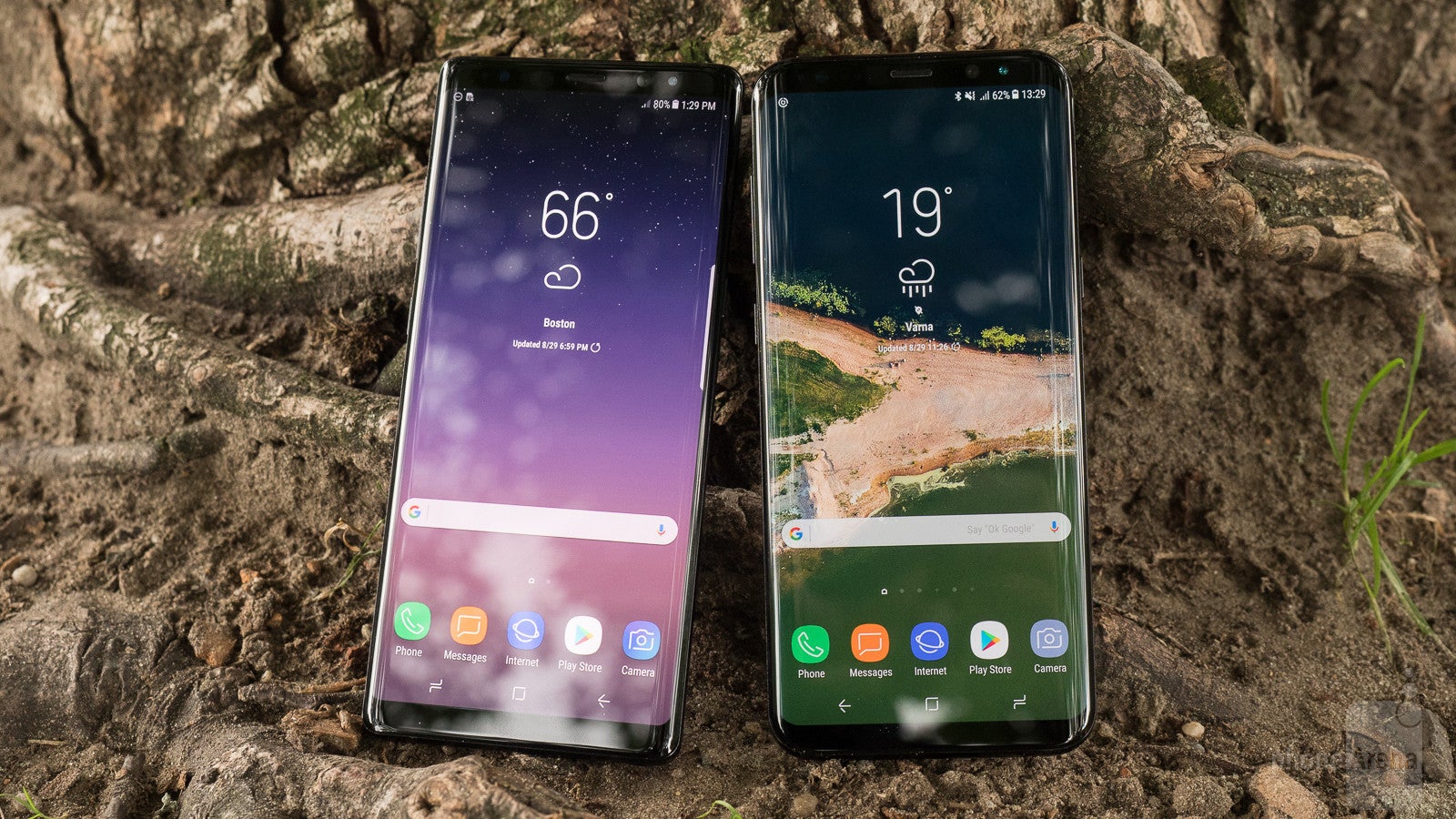 Neither of these two phones will disappoint you when it comes to screen quality. The Galaxy S8+ and Galaxy Note 8 have bright and vivid AMOLED displays that pack the same high number of pixels for superb detail in images -- 1440 by 2960 of them, to be more precise. Both run at 1080p resolution by default, however, to save battery. That is perfectly sufficient for most people, but if you feel like squeezing every bit of detail these can produce, you can switch to maximum resolution from the display settings.
Speaking of settings, Samsung is offering you various display modes to experiment with. Again, most folks would be fine with the default Adaptive Display mode, but color accuracy is greater in Basic mode.
As the Galaxy S8+, the Galaxy Note 8 excels when it comes to outdoor visibility. Night Mode -- a blue light filter that makes the screen go easy on the eyes in the dark -- is also on board.
Samsung's familiar Always-on Display mode is active on both phones by default, so you can easily check on the time or see if you have pending notifications without turning the phone on. HDR videos can be enjoyed on both devices, streamed from Netflix or even YouTube.
Display measurements and quality