Samsung Galaxy S9+ vs Galaxy Note 8
18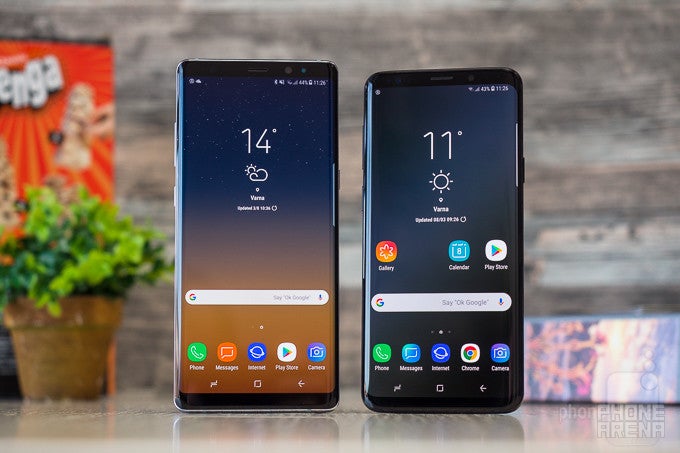 Six months after releasing its super-powered phablet — the
Note 8
— Samsung is launching its flagship phone duo for 2018 — the
Galaxy S9
and
Galaxy S9+
. With such a short distance of time between the two releases, it's only natural that the phones don't have a huge gap between them in terms of design and hardware.
Both the Galaxy S9+ and the Galaxy Note 8 are big, shiny and pretty to look at, and pack all of Samsung's latest bells and whistles, like the iris scanner, dual camera, fingerprint pad, wireless charging, et cetera. One can legitimately be confused when trying to decide between those two. So, let's take a closer look, see where they differ, and hopefully help you make the choice that best suits you!
Design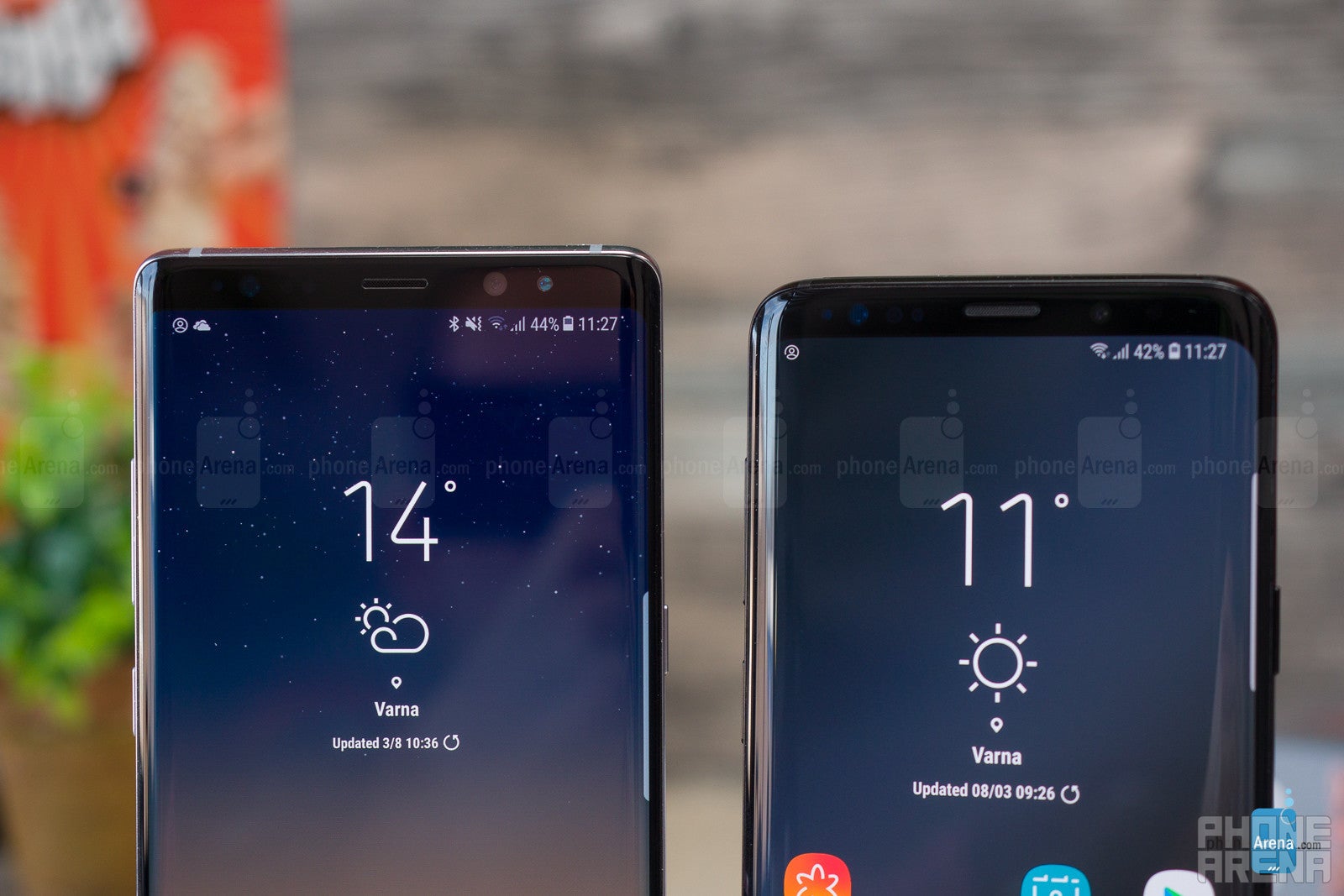 In the looks department, both phones are extremely similar. We've got glass-and-metal sandwiches with rounded edges and seamless transitions — both the Galaxy S9+ and Galaxy Note 8 are true gems of modern technology. And they certainly look a lot alike, maintaining Samsung's easily recognizable design DNA.
But that's not to say that they don't have their differences and peculiarities. For one, the Note 8 is a slightly taller phone since it does have a marginally bigger display — 6.3" vs the Galaxy S9+'s 6.2" — and a slightly thicker bottom bezel. And when it comes to fingerprint positioning, the Galaxy Note 8 has last year's placement of the pad — awkwardly to the side of the camera — while the Galaxy S9+ has it moved to a much more convenient spot, at its back below the camera.
In other words, it's safe to say that the Galaxy S9+ is slightly more comfortable to hold and operate due to its smaller size and more convenient finger pad placement. Not by a huge margin, sure, but it could make a difference in various daily scenarios.
In terms of extras, both phones have IP 68 rating for water- and dust-resistance and both rock a 3.5 mm headphone jack — although it still feels weird to say that this is a special feature. Kudos to Samsung for sticking with it!
Display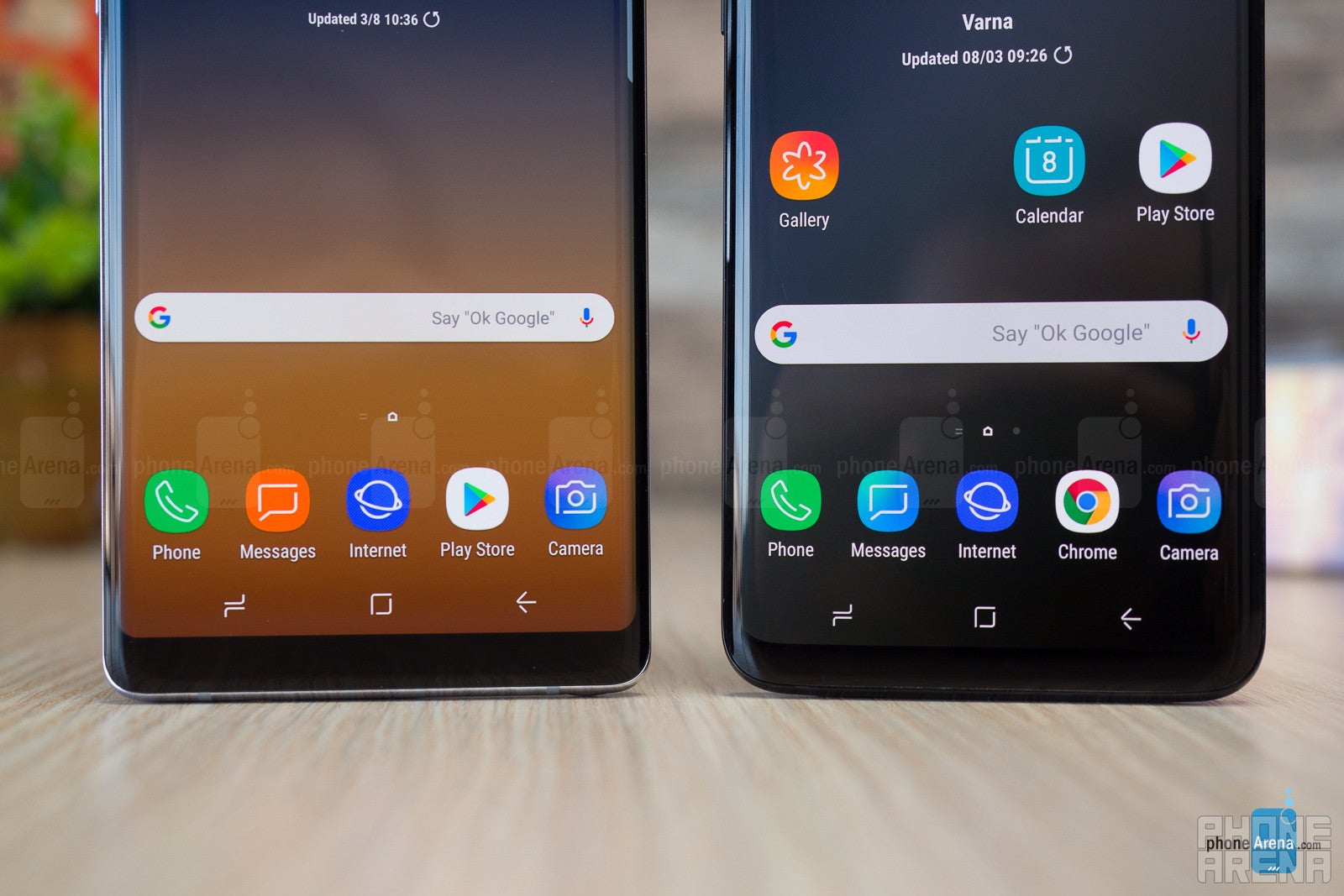 Samsung has been on top of its display game for years now, and both the Galaxy S9+ and Note 8 rock top-notch screens. Both are curved at the sides for that signature Edge look (though, Samsung prefers to call it Infinity Display now). And each of these devices fits in the "phablet" category — the Galaxy S9+ has a 6.2-inch screen and the Note 8 has a 6.3-inch one.
They use Samsung's Super AMOLED tech and provide deep blacks and punchy, vivid colors. If you are a fan of the more natural and subdued color reproduction — worry not as both phones have the Basic Mode in the Display settings, which tones the AMOLED craziness down. You can trust that both displays are extra sharp as they have a resolution of 1440 x 2960 pixels resulting in a pixel-per-inch density of more than 500 for both phones.
Display measurements and quality
Outdoor visibility is excellent on both devices — yes, the Galaxy S9+ can go 150 nits brighter, per our measurements, but we assure you that the Note 8 is bright enough. When it comes to reading in the night — we've got an excellent minimum brightness on both handsets, accompanied by the Night Mode blue light filter.
When it comes to extra bells and whistles, we've got support for mobile HDR on both for extra lively colors and wider contrast ratios (if HDR media is provided) and we've got the Always-on Display to show us our notifications even when the phone is sleeping.
Interface and functionality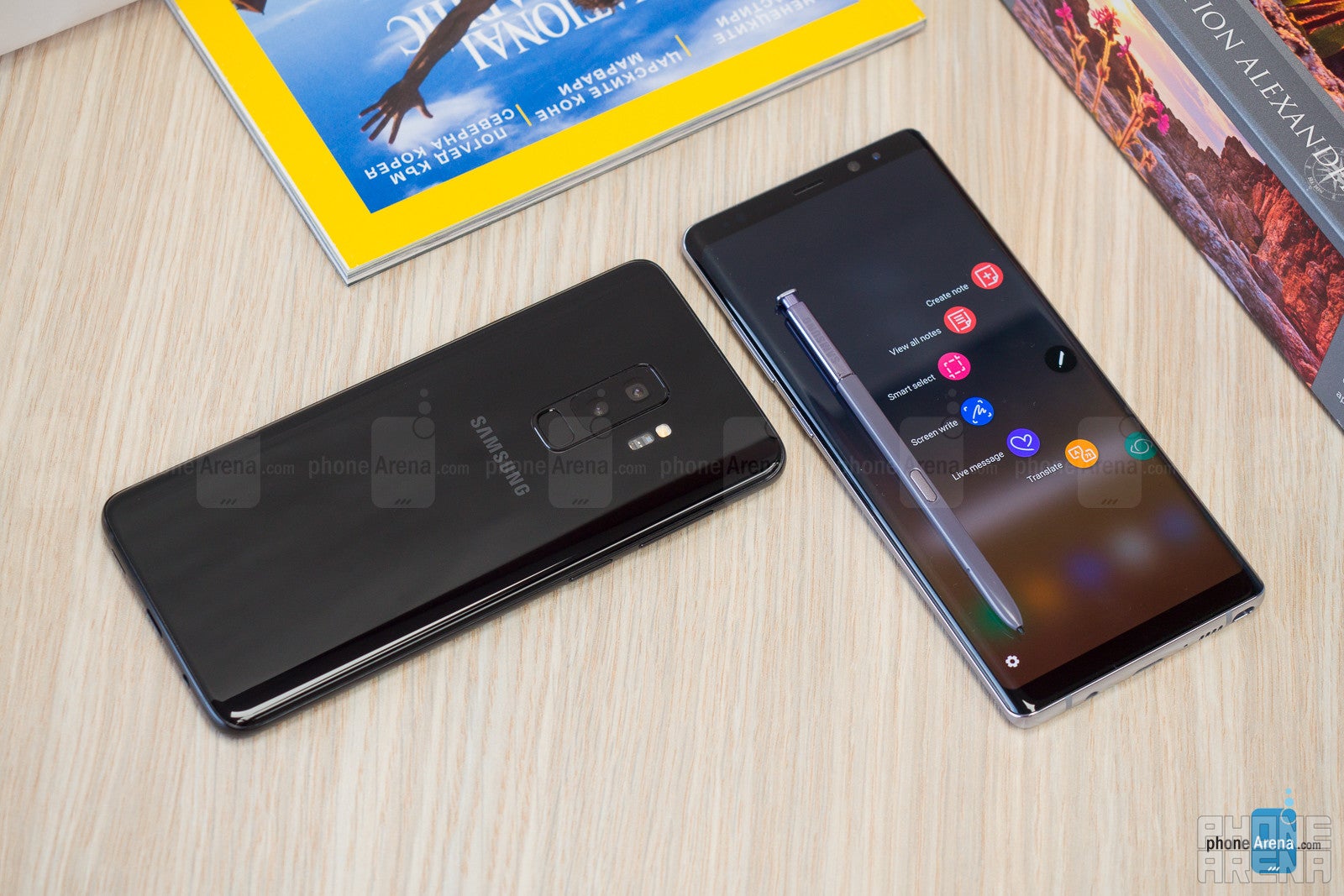 At first look, both devices have the same Samsung Experience interface, with a couple of deviations. We've got a different look for the Camera app on the Galaxy S9+, for instance. More notably — the Galaxy Note 8 has an entire suite of apps and features to be used with the S Pen stylus. And, in this comparison, this is one of the main selling points of the Note 8.
The S Pen is Samsung's proprietary stylus, which it has been improving for 7 generations of Note phones. It's extremely precise and a pleasure to use for both writing and drawing on your phone, which is its obvious main use. Beyond that, it can be used as a sort of a mouse pointer, as the Samsung interface will recognize when you are hovering the Pen over certain items, so you can get things like pop-up views and sub-menus that you wouldn't see if you were just using your finger.
If we take the S Pen out of the equation, however, both interfaces are pretty similar. The Galaxy S9+ does come with Android 8 Oreo out of the box, which brings along nifty features like picture-in-picture, but an update is en route to the Galaxy Note 8, too, so it should be getting them soon as well.
Processor and memory
Samsung's top-tier phones always carry the most powerful commercially available hardware, so it's no surprise that the brand-new Galaxy S9+ and the 6-month-old Galaxy Note 8 are both absolute beasts. Still, the newer handset has a slight edge over its older sibling — the S9+ sports an octa-core Qualcomm Snapdragon 845 SoC that ticks at 2.8 GHz (or Exynos 9810 at 2.9 GHz in international markets), while the Note 8 rocks the older model — octa-core Snapdragon 835 at 2.35 GHz (or Exynos 8895 at 2.3 GHz in international markets).
Processor aside, Samsung was generous with the memory chips — each phone gets 6 GB of RAM and 64 GB of internal storage, which can be expanded via a microSD card.
Camera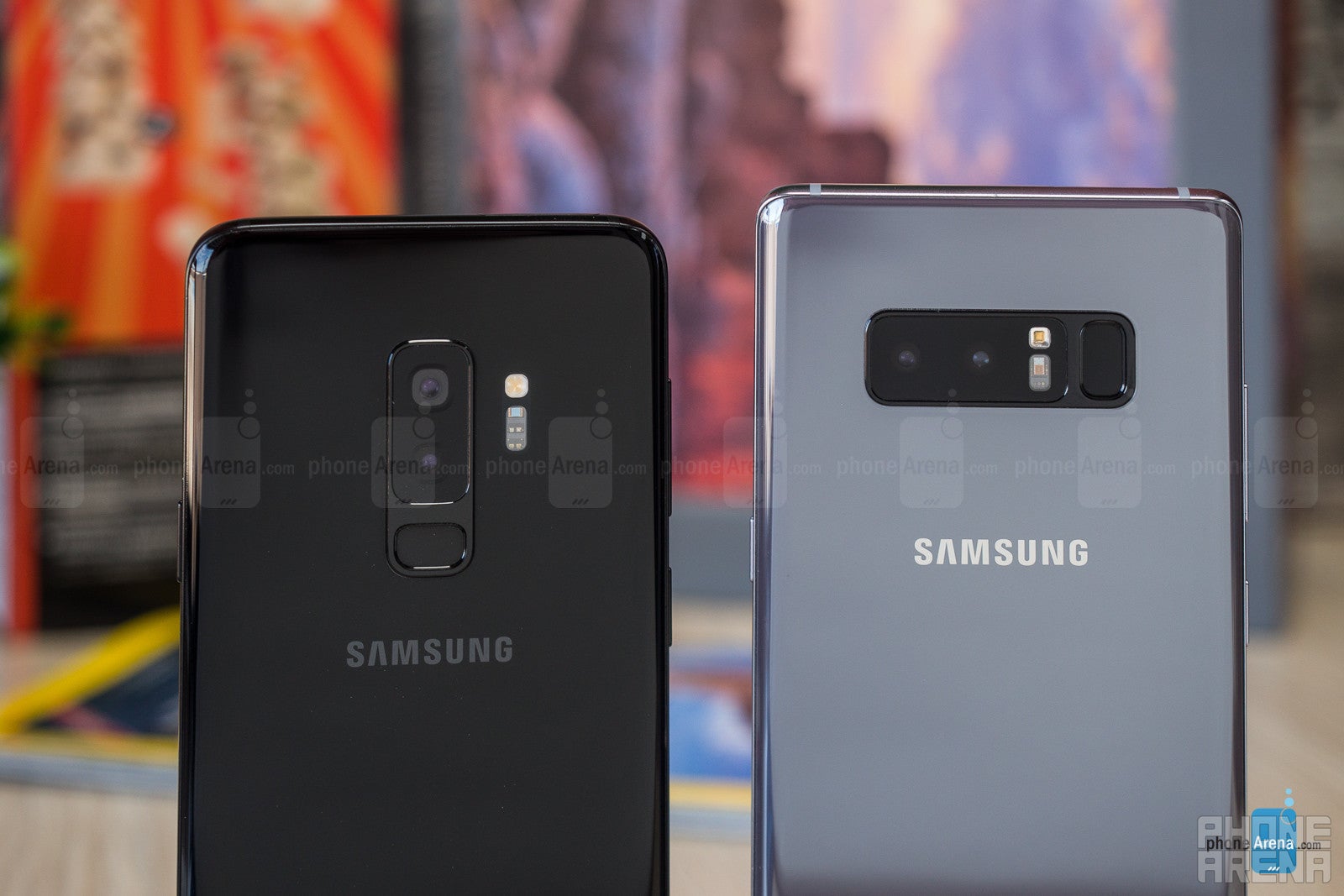 The Galaxy S9+ adopted the Note 8's dual camera setup by adding a secondary telephoto camera for portrait shots and optical zoom. Then, it took things further with an upgraded main camera that has the cool new variable aperture — from F1.5 to F2.4. Samsung was extremely proud of how well the Galaxy S9+ can adapt to lighting conditions when introducing it. Of course, we took it out for a spin!
Image quality
We took a ton of photos with the Galaxy S9+ to compare against its rivals. When put against the Note 8, we'd say that we can see marginal improvements in image quality, but not consistent ones. Sometimes the photos look slightly better, at other times they look equally good on both phones, just different in their own way.
The Galaxy S9+ seems to make slightly warmer photos than the Note 8 and that's a bit surprising to us since Samsung's cameras were already prone to adding quite a bit of yellow tinting to their pictures. Colors are often boosted for an extra-punch, which does look striking on a phone screen, but can be undesired when you are trying to capture the natural look of a scene. Thankfully, Samsung does allow you to shoot RAW straight from the stock camera apps on both phones, so serious photographers can bask into editing their shots to their heart's content.
On the Galaxy S9+, Samsung dialed the sharpening down a notch, which is definitely a welcome move. Digital sharpening looks awesome when you are just quick-browsing your photos on a small screen, as it creates the illusion of great detail, but that illusion is quickly shattered when you zoom in and said details begin to look awkward and fake. The Note 8 already had its sharpening tuned down from what the Galaxy S8 used to do, and it's now further fine-tuned on the Galaxy S9 phones.
When it comes to nighttime photography, both the Galaxy S9+ and Note 8 perform great, but the former is ever so slightly better. Thanks to a wider dynamic range, the light sources in the S9+ photos have a smaller aura around them and we get more visible details in both lit areas and dark corners. Again, the improvement here is marginal, but it is present. The S9+ also does a lot better at balancing colors in night shots, while the Note 8 defaults to adding a strong yellow tint to everything.
The Galaxy S9+ can also take 4K videos at 60 FPS, while the Note 8's camcorder is limited to 30 FPS when set to this ultra-high resolution. It's worth noting, however, that — in this mode — the S9+ is restricted to 5-minute videos only.
And, of course, the S9+ has the new Super Slow Motion mode, which can take 0.2-second clips at the amazing speed of 960 frames per second, then stretch them out into a buttery smooth, slow-paced 6-second video. In terms of usefulness — you'll need a lot of setting up to capture the perfect Ultra Slow Motion clip, so forget about making quick snaps of everyday events, but we would be lying if we said it isn't fun to play around with!
Selfie quality
Not much has changed in the selfie department. Both phones rock an 8 MP front camera with a lens aperture of F1.7 and are capable of taking HDR shots with it. There is no stabilization on the front, but at least the screen can be used as a flash for selfies in the dark. The lenses on the front cameras are wide, allowing you to fit more in the shot, but beware of the "banana head" effect for anyone who's face is off to the corner of the frame.
Multimedia
As we said in the display part of this comparison, both phones rock awesome displays, so watching video on them is certainly a pleasurable experience.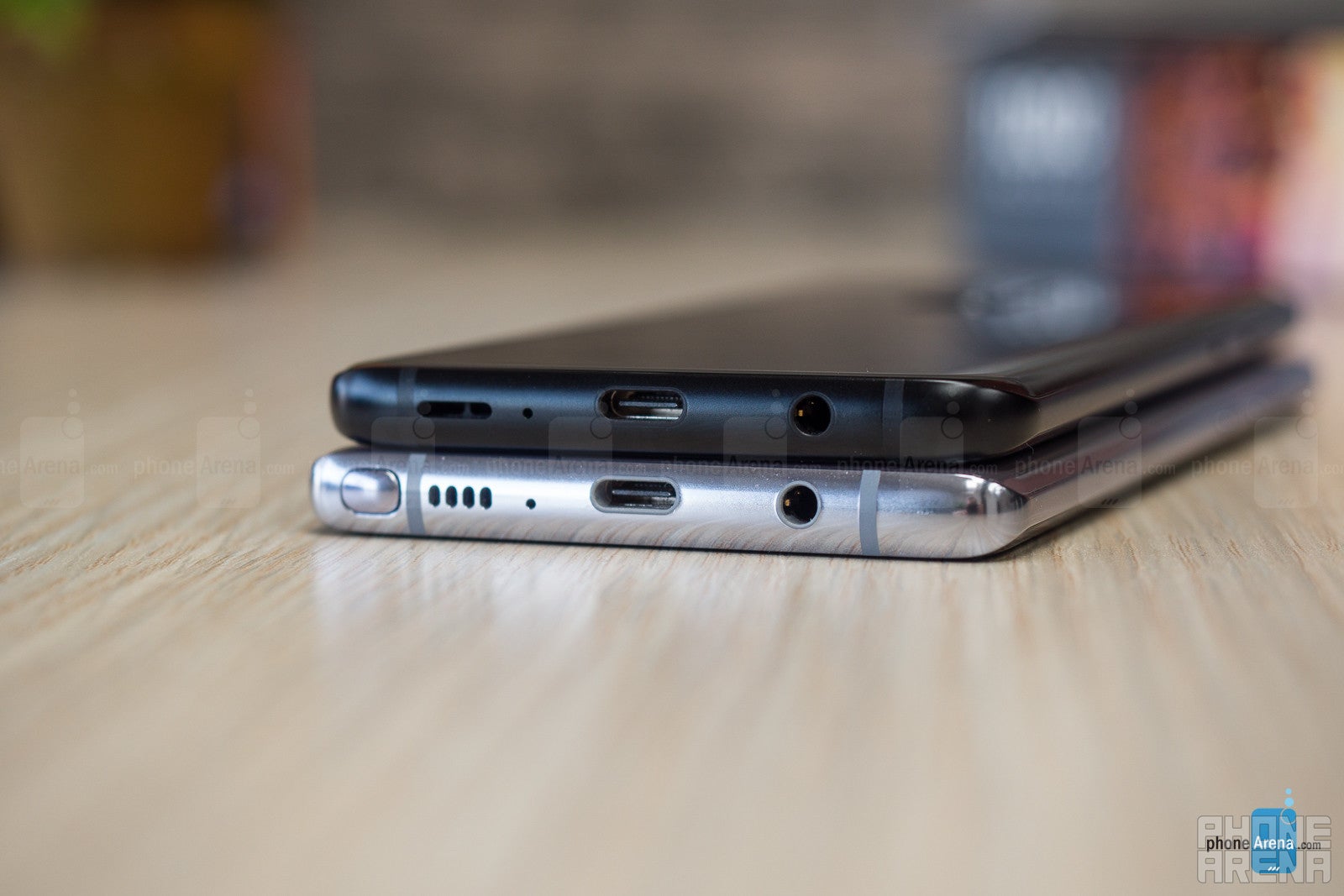 The Galaxy S9+, however, comes with a brand-new pair of stereo speakers, tuned by AKG. Compared to the Note 8's single, bottom-firing speaker, they are a definite improvement. While not louder per se, the sound is more balanced, with a fuller bass, and punchier mids, without sounding "tinny". Those of you that have their ears fine-tuned to sense overcompression will also find the Galaxy S9+'s speakers to be less annoying, as the Note 8's sound often produces pops, due to what we can only describe as a compressor with a slow attack.
When it comes to earphones — both devices come with the same set of AKG in-ear phones and yes, both have 3.5 mm jacks.
Battery life
Despite the fact that the Galaxy Note 8 has a bigger body, it still fits a smaller 3,200 mAh battery. The Galaxy S9+, in comparison, has a 3,500 mAh cell in its trunk. Does this result in different battery life? Not really.
On our battery life test, both phones hover around the 8-hour battery life mark, which is quite excellent. Thanks to a selection of battery-saving features and resolution settings, you can stretch out your use if you happen to be stuck away from an outlet for an uncomfortable amount of time.
Conclusion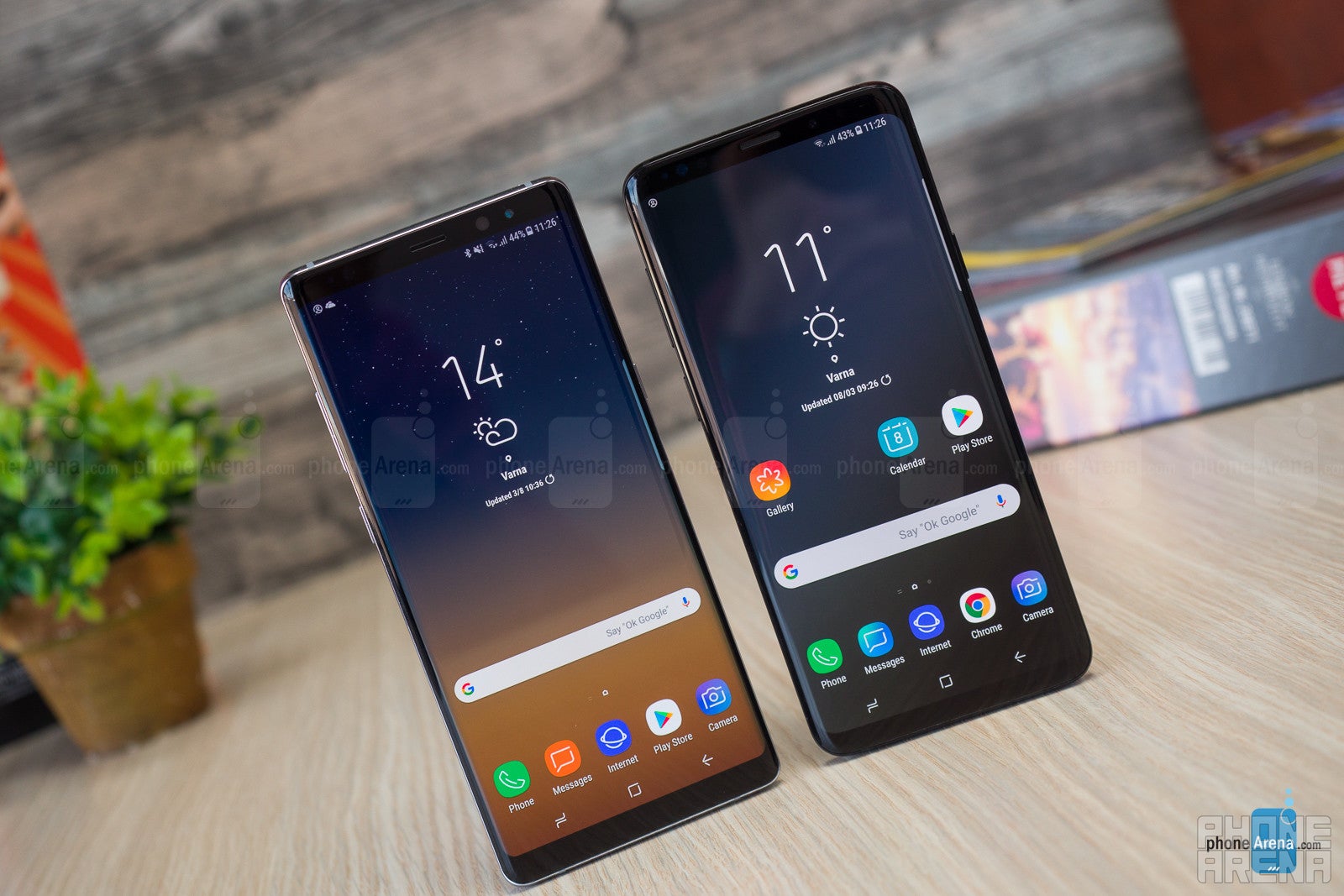 So, what's the final verdict? We've got two big, beautiful phones, with similar features and hardware specs. How does one make the call on which one to buy? Well, consider two things.
First — the S Pen. Yeah, that's the main differentiator here — not the cameras, which are only slightly different, not Android 8 Oreo, which doesn't seem to do much for the
Galaxy S9+
and is already en route to the
Note 8
anyway. The S Pen is an awesome tool for those that want the freedom of jotting down notes by hand or those who would like to do sketching on the go. If you care about your stylus game, going for the Note 8 is a perfectly logical choice.
Second — price. From Samsung's own website, the Galaxy S9+ can be bought for $840 unlocked, while the Galaxy Note 8 still costs $950. Ouch, that's a $110 price hike and you trade the newer hardware of the S9+ for the Note 8's S Pen. You probably see where we are going with this — if you don't see yourself using the stylus, absolutely go for the Galaxy S9+ without question.
Pros
Better ergonomics, proper finger pad placement
Slightly better camera
Dual speakers sound a lot better
Costs less
Pros
S Pen for drawing, taking notes, extra features
Recommended Stories