Taking a closer look at the Galaxy S8's AKG earphones
30
Accessories aren't usually the talk of the town, but when Samsung announced it will be bundling its latest flagship, the
Galaxy S8
, with a pair of AKG-branded earphones otherwise worth $100, my interest was piqued, so I decided to put them to the test. Are they really as high-quality as Samsung would like us to believe, or is this just an overblown marketing trick?
Well, a bit of both, really.
Earphones, at the most fundamental level, are a compromise – the minimal form factor which gives them their convenience is also their biggest problem, as more often than not it results in poor quality, both build- and sound-wise. Sure, there are exceptions, but they almost always cost a pretty penny, making them unsuitable for the basic consumer's needs.
It's an expensive gift, but is it a good one?
Which brings us back to the AKG pair of earphones – $100 may not exactly be premium territory when it comes to audio equipment, but it's still more than what your average Joe is willing to spend on such a product, so it's fair to say the price brings some bigger expectations to the table.
Unfortunately, a few days of testing have led to the conclusion that these earphones are not quite the high-quality product they're advertised to be. Admittedly, they are a lot better than what is commonly bundled with other smartphones, but nonetheless never fully deliver on Samsung's promise of premium quality.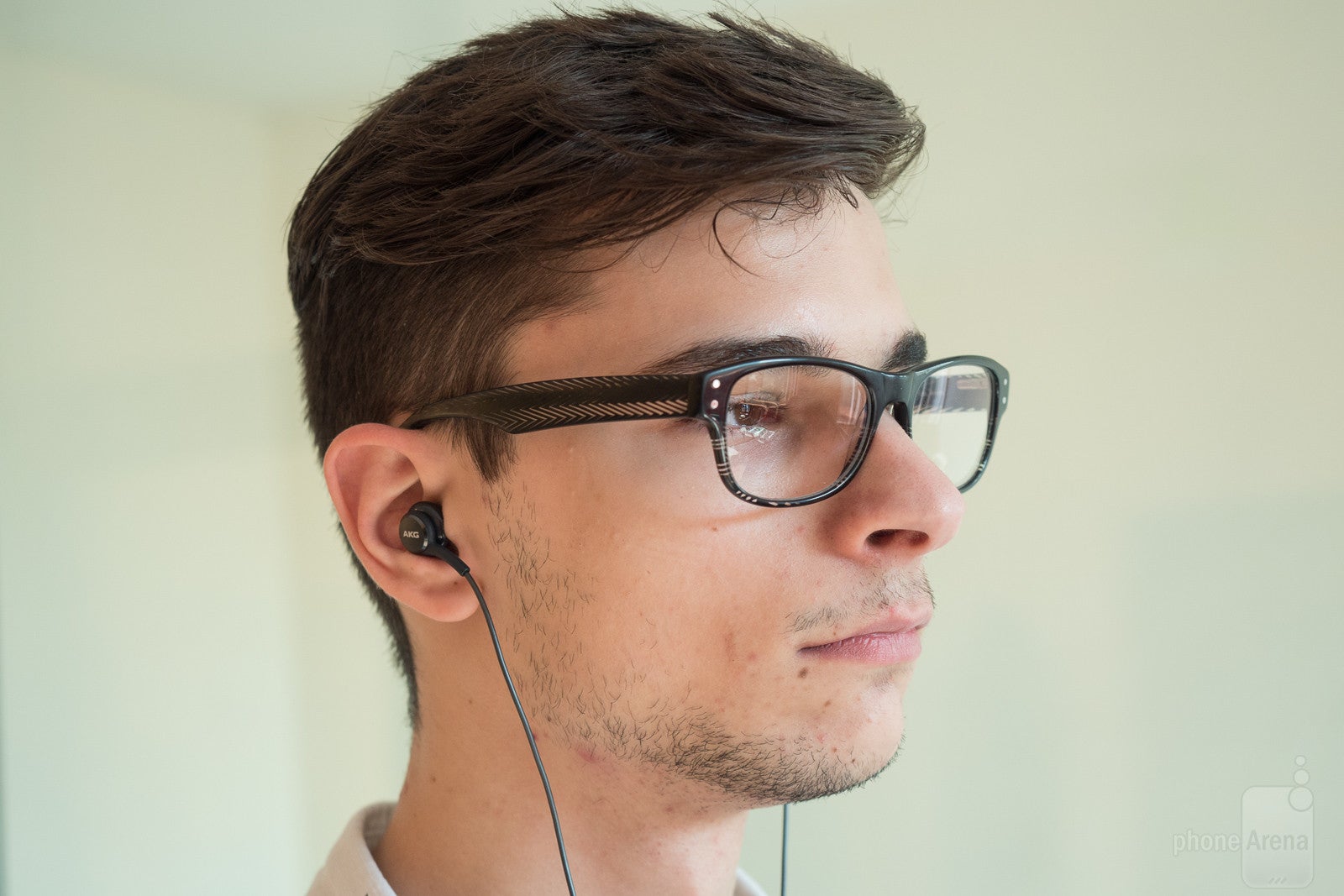 As is the tradition with most earphones, Samsung/AKG opted to sweeten the sound by applying the so-called 'smile' curve, somewhat aggressively bumping up the lows and mid-highs at the expense of the mids. This won't exactly be bad news to most listeners – such tuning often has the effect of making the sound appear both wider and louder than what a more neutral-sounding pair of earphones can deliver, but for people who prefer their sound as accurate as possible this pair will be far from ideal.
A few problems: to my ears, the low end was a bit more pronounced than it should be, and it often drowned out the rest of the audio when listening to more electronic, bass-heavy tracks, though rock tended to be improved by the pair's tuning. The sub bass and the very high end both suffered in terms of volume, resulting in a boxier sound and dulling drums' punchiness. Treble, too, sounded a bit off, but was never as uncomfortably loud as it usually is on cheaper earphones.
In terms of design, the earphones are muted and unobtrusive, though I wouldn't go as far as calling them 'stylish'. They sport a braided fabric cable which does a good enough job of preventing pocket Tangelas, but fails in another, much more important department. This cable is
noisy
– even just a slight tug will result in an uncomfortable auditory assault which, if you're like me, can be a major dealbreaker. Of course, this is an inescapable problem of wired 'phones of all kinds, but it's particularly pronounced here due to the anti-tangling fabric.
The fabric-encased cable is uncomfortably noisy
And this is a major issue, as earbuds are, by design, made to be used while on the move. The AKG pair's build unfortunately punishes such use, so if you're thinking of using them while working out, well, think again. It certainly doesn't help that the connection between the earphones and the cable feels flimsy and twisty. For what it's worth, however, the pair is a comfortable and snug fit, unlikely to slide out of your ears on its own.




Being bundled with a smartphone, it's only natural that the earphones also include an in-line microphone and music controls. My only gripe with those is that the buttons don't exactly feel clicky and satisfying, but are instead a bit too soft and don't provide good enough feedback.






Despite the aforementioned problems, however, the AKG earphones still offer the best possible value, being a free accessory and all. So if you're not a sound purist, and the build quality issues don't seem like that big of a deal, then you should be good to go – these are earbuds, and they make sound – no more, no less.