Samsung Galaxy Note 20 vs Galaxy Note 10: battle of the "cheap" Notes
5
We may earn a commission if you make a purchase from the links on this page.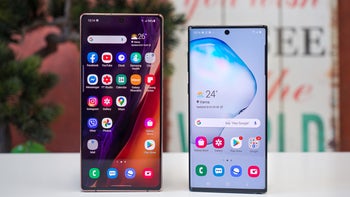 I am of the mind that in 2020, buying the
Galaxy Note 10
instead of a
Note 20
is the better choice. For one, you get the premium build materials with shiny finishes, you get a curved display, and you get a relatively compact phone with an S Pen. The
Samsung
Note 10 is cute, functional, and it can be found much cheaper than the current-year Note 20, though you may have to shop around.
You don't sacrifice much, either — the
Note 20
doesn't have a high refresh rate screen, so you lose nothing by going for the Note 10. The Note 20's Snapdragon 865+ is the latest and greatest processor — sure — but last year's Snapdragon 855 is hardly obsolete. The cameras are great on both phones and pretty much comparable.
The only reason one should go for a Note 20, I believe, is if they want a big screen without the curved edge or if they insist on having 5G.
Galaxy Note 20 vs Note 10: display and design
Last year's Note duo had a very obvious difference in size — the Note 10+ was this big, two-hand device – a trait the Note line is known for. But the Note 10 was this compact, comfortable, Galaxy S-sized phone, with a 6.3-inch (19:9 ratio) screen and an S Pen. It had its own following and with good reason.
The 2020 Note phones don't differ much in size. The 6.7-inch (20:9 ratio) Note 20 is almost as big as the 6.9-inch (19.3:9) Note 20 Ultra.
Ergo, the size difference alone should be a pretty big factor when you are choosing between the 6.3-inch Note 10 or 6.7-inch Note 20. The latter is for media lovers who just can't live without that big, big screen. The Note 10 is for those that want something a bit more portable but still enjoy jotting stuff down with the S Pen. You can rest assured that both AMOLED panels look fantastic with great contrast and popping colors.
When it comes to materials and build, the
Note 20
takes another loss thanks to its matte plastic back and honestly dull selection of colors. A bronze-ish rose gold, a dull green, and an "exciting" dark gray. The Galaxy Note 10 comes with a shiny glass back and in a wide selection of colors — from the multi-colored Aura Glow to white, black, pink, and vibrant red.
The camera modules on the back also differ a bit — both phones have triple lenses, but the Note 20 has this bold design, while the Note 10 is more understated. This design choice is up to taste — I find myself liking both variants.
Display measurements and quality
Galaxy Note 20 vs Note 10: cameras, photos, video quality
There are some minor differences around these camera modules, but feature- and quality-wise, both of these Notes have excellent cameras.
So, the Note 10 and Note 20 both have a 12 MP main camera. Then, the Note 10 has a 12 MP telephoto camera, while the Note 20 has a 64 MP secondary camera that simulates a telephoto effect by cropping into the image. As a bonus, however, the Note 20 can use that 64 MP sensor to take higher-res photos, if you choose that special mode.
100% crop in the upper-right corner shows the difference in detail
< Note 20 64MP
Note 10 12 MP >
The third camera on both phones is an ultra-wide shooter — 16 MP on the Note 10, 12 MP on the Note 20.
Enough numbers, here are some samples.
In every sample, we get fantastic dynamics, sharp details, and popping colors. Though, I will say that — in some photos — I like the colors of the Note 10 better — the sky definitely looks more realistic. In some photos, the Note 20 amps colors a bit too much. Sure, they pop, but they end up being a bit unrealistic.
The Note 20 does have advanced zoom — you can go up to 30x on that baby. Though, you may not want to… it gets a bit washed out when you go all the way up to 30. But think of it as zoom headroom — the fact that it's there should mean that the phone can take better shots in mid-zoom levels.
And yes, in fact, a 10x photo taken with the Galaxy Note 20 is slightly sharper than a 10x photo taken with the Note 10: evidence provided above.
For selfies, you get a 10 MP front-facing camera on both phones. And — surprise, surprise — selfies taken with the Note 20 and Note 10 look pretty much identical.
The Note 20 does have a big upgrade in the video department — it can shoot 8K video at 24 FPS. It's an impressive feat, especially considering that there aren't many devices that can even play 8K video to begin with. How much it matters to you… is up for you to decide. The Note 10 is still capable of 4K at 60 FPS, which is nothing to snark at — recording at 4K is pretty much the standard right now.
As for extra features — you get Pro Mode, Pro Video, Live Focus video, Super Steady, and Super Slow-mo on both phones. All the bells and whistles, no bars held.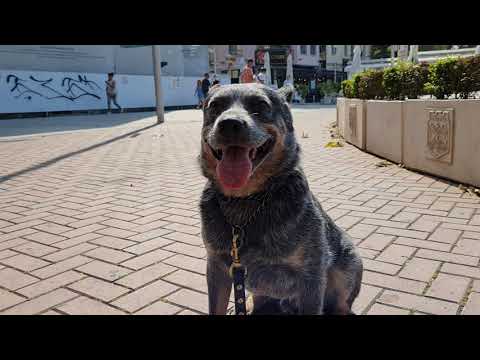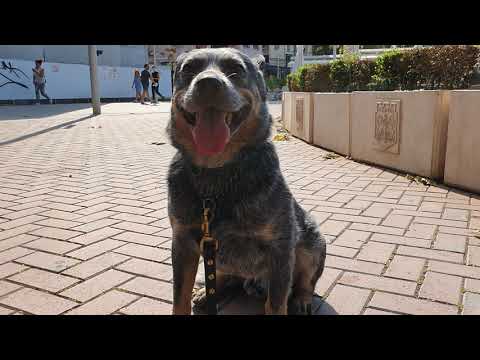 Galaxy Note 20 vs Note 10: performance and interface
At the time of writing this review, the Galaxy Note 10 runs Samsung One UI 2.1, the Note 20 runs One UI 2.5. Both are built on top of Android 10 and are almost the same interface. We've got the slightly updated Notes app on the Note 20, which can import PDFs and sync your audio recordings to your written words, so you can review your notes with better clarity of what was being said.
Otherwise, it's the same deal throughout — Dark Mode, Blue light filter, Samsung Daily board, Device Care, S Pen gestures, all the Samsung bells and whistles can be found on both phones.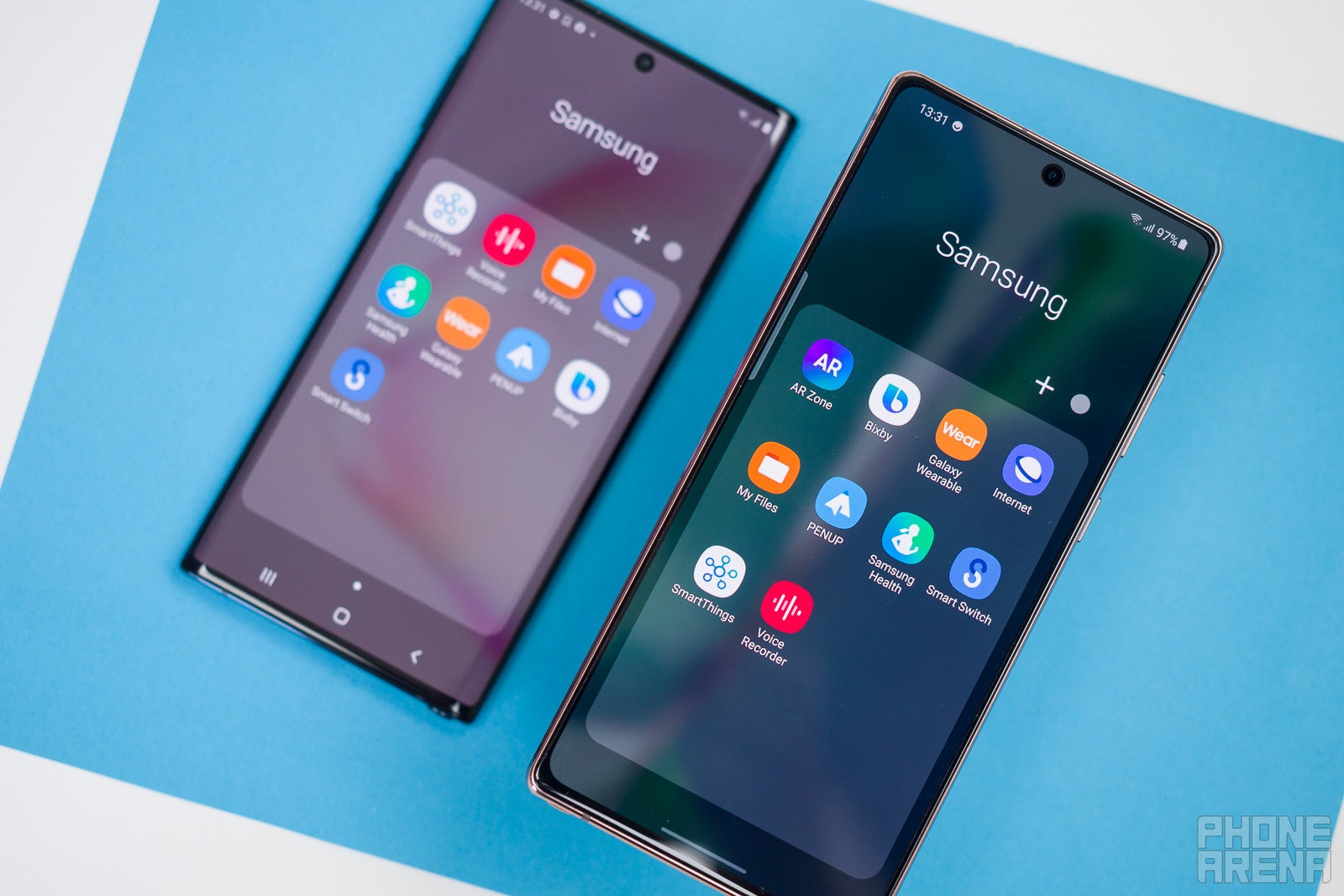 When it comes to performance — the Note 10 is still very much a flagship. It may be running last year's tech, but that doesn't make it a slouch. The Note 20 does have the edge in benchmarks. But, in real-life use, I found both phones have the same ratio of enjoyable performance to annoying frame drops.
Samsung has recently committed to 3 years of support for the Notes. So, the Note 10 still has 2 more major updates to get — up to Android 12 —, the Note 20 will get 3.
But the Note 10's older hardware means that it'd be easier to find it at a bargain price, so it's quid pro quo.
Galaxy Note 20 vs Galaxy Note 10: battery life
The Galaxy Note 10 has a 3,500 mAh battery — a dwarf, compared to the 4,300 mAh cell of the Galaxy Note 20. Difference in battery life? Well, it's kind of there… the Note 20 can last a beat longer. But it's nothing to really fret over.
Both of these are "one day phones" — overnight charging will not be off your schedule. But, should you forget to do it, the 25 W charger which comes with both devices will top you up pretty fast.
Recommended Stories